By
Kevin McCrudden
, January 15, 2015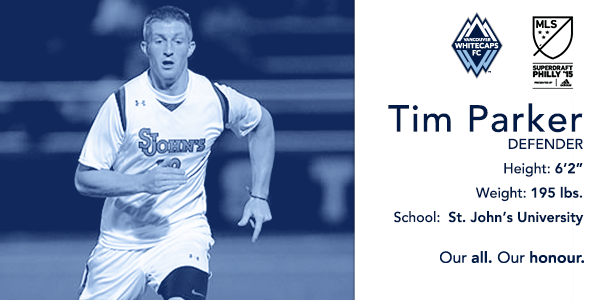 PHILADELPHIA, PA – Vancouver Whitecaps FC today selected defender Tim Parker with the club's first pick (13th overall) in the 2015 MLS SuperDraft.
Whitecaps FC defender Tim Parker
Earned Big East honours in each of his four seasons (first-team nods as a junior and senior)
Started 78 of 79 appearances with the Red Storm
Helped lead St. John's to three NCAA Tournament appearances and a Big East Tournament title
Three-time NSCAA All-Region selection
Captained St. John's as a senior
Named to MAC Hermann Trophy watch list in 2013 and 2014
Parker, 21, joins Whitecaps FC after spending four seasons with the St. John's University Red Storm of the National Collegiate Athletic Association's (NCAA) Big East Conference.
The 6-foot-2, 195-pound centre back appeared in 79 of 80 Red Storm matches over the past four seasons, starting all but one of his appearances. Parker finished with four goals, two game-winners, and four assists, while anchoring a back line that posted 30 clean sheets. He also helped lead St. John's to three straight NCAA Tournament appearances (2011-2013) and the 2011 Big East Tournament title.
A native of Hicksville, New York native, Parker earned Big East honours in each of his four seasons with the Red Storm, including first-team honours as a senior and junior. He was also the program's first three-time NSCAA All-Region selection since Chris Wingert (2001-2003).
Parker, who captained the Red Storm this past season, earned a pair of first-team NSCAA All-Region selections to go along with a third-team nod as a senior. Also of note, the defender led St. John's in minutes played in two of his four seasons at the school.  
Prior to his collegiate career, Parker was named a second team ESPN RISE All-American and was the Gatorade New York Boys Soccer Player of the Year. He was also a member of the United States U-18 men's national team pool.
Tim Parker
Position: Centre back
Height: 6-02
Weight: 195 pounds
Date of Birth: February 23, 1993
Hometown: Hicksville, New York
Citizenship: American
Status: Domestic
Last Club: St. John's Red Storm
How Acquired: Selected 13th overall in the 2015 MLS SuperDraft by Whitecaps FC