By
Sean McCaffery
, July 4, 2018
Contributed by Steven Torres
Soccer Long Island Magazine continues its weekly feature as it looks back at some historical events/games, both on and off the field, from the region of North, Central America and Caribbean.
In this week's edition you have: 1st Caribbean Referees at FIFA U-20 World Cup 3rd Place Match;  U.S. capture 1st Gold Cup Title; Cuba aims for 3rd consecutive CAC Games Gold Medal.
July 2, 1986: Goals by Amado Povea (34th) and Carlos Gonzalez (89th) led Cuba to a 2:0 victory over Mexico in the Central American & Caribbean (CAC) Games Men's Tournament Semifinals at the Olímpico Juan Pablo Duarte Stadium in Santo Domingo, Dominican Republic.  The Leones del Caribe continued onto the finals two days later, where they defeated Honduras on penalties (4:2) after a 1:1 draw to capture their record fifth gold medal.
July 3, 1991: Los Angeles Memorial Coliseum hosted a record four matches in a single day to conclude group stage of the Concacaf Gold Cup.  A crowd of 36,703 witnessed: Canada earn its first tournament victory (3:2 against Jamaica); a last-minute Guatemalan goal eliminated Trinidad & Tobago (1:0) from a semifinal berth; a Costa Rican own-goal (first one in the history of tournament) gave United States a come-from-behind win (3:2); and Honduras claimed the group title holding Mexico to a draw (1:1).
July 4, 1979: After earning its 1st Pan American medal (bronze) eight years earlier, Cuba began its quest for another medal at the men's tournament with a 2:2 draw against Guatemala in Group B play at the Hiram Bithorn Stadium in San Juan, Puerto Rico.
July 5, 1997: Jamaica's Peter Prendergast and Merere Gonzales of Trinidad & Tobago were the first Caribbean Referees to officiate the 3rd place encounter of FIFA U-20 World Cup in Malaysia.  Prendergast was the man in the middle, while Gonzales was Assistant Referee 1 during the Ghana – Ireland encounter (won 2:1 by the Irish) at Kuala Lumpur's Shah Alam Stadium.  Later in the day at the same venue, Jose Barrantes of Costa Rica was the Assistant Referee in the final match as Argentina defeated Uruguay, 2:1.
July 6, 1997: Vernon Sargeant (34th) & George Isaac (87th) scored for hosts St. Kitts & Nevis in the 2:0 victory over Martinique during Group B of Caribbean Cup Final Round at Basseterre's Warner Park.  After losing to Trinidad & Tobago in the group finale, the Sugar Boyz advanced to the semifinals and defeated Grenada 2:1 after extra time to reach the final for the first time in history.
July 7, 1991: Goalkeeper Tony Meola saved three penalties, while defender Fernando Clavijo scored the game-winning kick as hosts United States defeated Honduras 4:3 on pks after a scoreless 120 minutes of play at the inaugural Concacaf Gold Cup Final, before crowd of 41,103, at LA Memorial Coliseum.  The victory gave the Stars & Stripes their 1st Gold Cup title.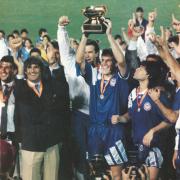 Photo by USSF.
July 8, 1978: Jorge Masso and Roberto Pereira scored twice, while Ramon Nuñez and Andres Roldan each added a goal, to lead defending gold medalist Cuba to a 6:0 win against El Salvador in the opening match of CAC Games at Girardot Stadium in Medellin, Colombia.  The Leones del Caribe went on to win six more games (including a 2:0 OT triumph over Venezuela in the final), while outscoring their opponents 21:2 to become the first team to capture three consecutive men's tournament gold medals (1970, '74, '78).
Written by Steven Torres