By
Sean McCaffery
, November 28, 2018
It had been rumored throughtout the season and those trumours increased in the offseason for NYCFC, but #7 is now gone effective the end of 2018. He was not always the best player in NY, that nod must go to Raul, was the best player in the MLS, yes. A top player on a world scale, the probverbial big fish in a small pond, he was here. Each and every one of my dealing with him, class pure class. Little ones at appearances, opponents, teammates, always top notch. My first meeting of him we were at the unveil of the jersey, of course modeled by him, we spoke on the stage in my horrific Spanish, there was a woman in a wheel chair on the floor of the nightclub as we were up on the stage. He wanted to jump down to her, I told him use the stairs they are next to us if you slip, it is a polished concrete floor you will get hurt as he had cleats on. He walked down to her spending a good half hour with her only stopping for a moment to sign things or pose for a selfie etc. The last press training session, I had photos for players, himself included, he offered to sign it, no this is for you, enjoy. Always a hello or a quick nod.
The first at so many things for his club, player, goal, captain, hat trick and in the hearts of all the many fans has played his last game for NYCFC. Where will he be next?, back to Europe, are big bucks of China or the desert calling?, that I assure you they are, it is how he does or does not answer that will tell the tale. A World Cup Champion with his beloved Spain, 80 goals over 124 MLS games not so bad right? Dave stated, "I can only say thank you, thank you to everybody. Thank you to my teamates-without them it would have been impossible to be successful. Thank you to the people working in the media that always gave me respect and love." Respect nothing, he was and will continue to be revered. . He continued "Obvioiusly our fans. I remember the first day I showed the jersey and the supporters were there. My experience here was amazing. My heart is here and I'm an NYCFC supporter forever." From Atletico Madrid, the first boy in blue singed on June 2. 2014 , already a European champion yet he arrived like a man with a point to prove. NYCFC Vice Chariman had this to say, "David Villa encompasses the values we have here. "  NYCFC Sporting Director Claudio Reyna stated,"David has been an incredible ambassador and captain. He's represented New York City FC tremendously. David will be remembered as one of the best players to ever play in MLS. He will always be a part of NYCFC." 
Some highlights during his time here were getting goal #400 facing Dallas FC this season at Yankee Stadium. 2016 MLS MVP with 23 goals and NYCFC in the playoffs for the first time. The 98th cap with Spain.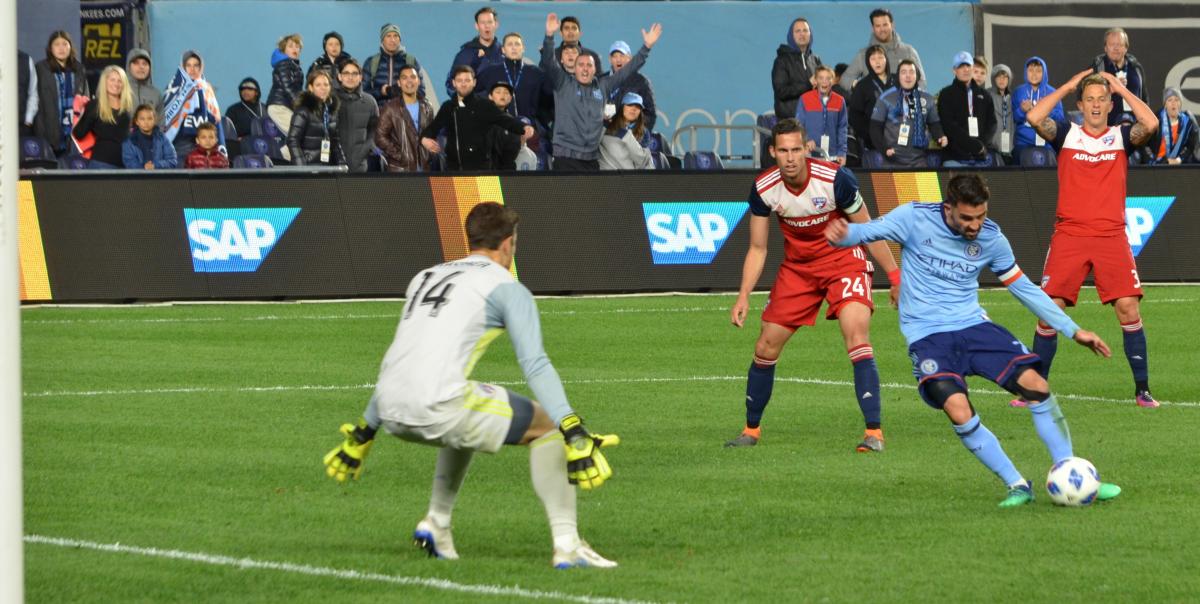 The expression and body language of the defender says it all.