By
Kevin McCrudden
, January 15, 2015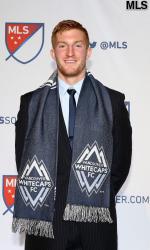 QUEENS, N.Y. - Following a standout career as a four-year starter at St. John's, defender Tim Parker was selected by Vancouver Whitecaps FC as the 13th overall pick in the first round of the 2015 MLS SuperDraft.
The first-ever St. John's player taken in the first round of the MLS SuperDraft, Parker is the highest Red Storm selection since MAC Hermann Trophy winner Chris Wingert was chosen with the 12th overall pick in the second round of the 2004 MLS SuperDraft.
"We could not be more proud of Tim and we are excited for him as he begins the next phase of his soccer career," said St. John's head coach Dr. Dave Masur. "This is a well-deserved accomplishment for a four-year starter that was dedicated to working hard not only on the field, but also in the classroom as evidenced by his graduation in three and a half years."
The first three-time NSCAA All-Region selection for St. John's since Wingert (2001-03), Parker earned third team All-Region honors this past season to go with a pair of first team All-Region selections (2012-13).
Parker also earned BIG EAST honors in each of his four seasons. The defender was a unanimous first team All-BIG EAST honoree as a senior and also garnered first team accolades as a junior. Parker was a second team selection as a sophomore and earned All-Rookie honors as a freshman.
Parker appeared in 79-of-80 Red Storm games in his four seasons and made 78 starts. The defender finished with four goals, two-game-winners, and added four assists, while anchoring a defense that posted 30 shutouts. Parker helped lead the Red Storm to three-straight NCAA Tournament appearances (2011-13) and the 2011 BIG EAST Tournament title.