By
Sean McCaffery
, December 18, 2018
Literally the same day USSF called me back as I inquired on coaching licenses, by their count it had been "weeks", comes this announcement. This dozen, the 3rd such group is down quite a bit from the 17 in the last one,  and the 13 of the first one, it is rather expensive and takes a year to complete, a check of the grads shows all to be pro coaches, where I am sure their clubs are bearing the cost and if not it is of course a write off, not the case for most coaches in the nation or those such as myself with lower licenses ( I have a c). One is local, Paul Riley, HC of NWSL Champs, NC Courage, others have national team ties, Kenny Arena of LAFC, Robin Fraser Toronto FC & Steve Trittschuh Colorado Springs Switchbacks. This the highest level of licensing available by the Federation is intended for those who wish to improve their abilities needed to coach at the pro level. Set to their needs, on a one by one basis, each of them passed an indivdualized cirriculum to raise their work in getting to a successful culture, establish a playing style, set up sport science goals with their respective groups, highlighting their advancements as coaches and be leaders in their systems. Wim Van Zwam, the lead instructor of this USSF course stated, "It's an awesome experience to work with coaches every time." This brings together both theory & practical pieces to assist candidates achive their top level. This 11 month course has in-person instruction, visits by coach educators to candidates home  club environments, expert guest speakers, webinars and a final assessment. USSF's Director of Coach Education, Barry Pauwles, coach educator Vanni Santini & Chief Sport Development Officer, Nico Romeijn also were instructors. 
Guest presenters read like a who's who of soccer both domestically and internationally: Peter Bosz late of Borussia Dortmund, James Bunce USSF Director of High Performance, Wade Gilbert Prof. Kinesiology Fresno St. U., Jason Kreis ex MLS HC, Doug Lemov managing dir. Uncommon Schools, Gautam Mukunda Prof. Harvard, Curt Onalfo ex MLS HC, Perter Vermes HC & TD Sporting KC, finally the first woman to achive this license, USNT HC Jill Ellis.
During this year long journey, there were a trio of sessions, Jan., June & Dec. and the requiste growth times throughtout. During the gaps, USSF coach educators went out to the home club of these candiddate to see them utilizing the newly gained knowledge in coaching matches, training, and evaluating players. Sean McAuley who was just certifiied stated, "It's vital for any coach to go through the education system.
Another 3 candidates who took part in the 2018 sessions will graduate during 2019, Wilmer Cabrera a former coach at Suffolk CC and now with the Houston Dynamo, James O'Connor HC Orlando City, & David Vaudreuil. Van Zwam had this to say, "We believe that this group will continue to progress. This course is also about being an example as a head coach." USSF is the sole group able to license coaches here under FIFA, the Pro Liscense is to lift the minimum standard for those wishing to coach in the MLS, NWSL & USL.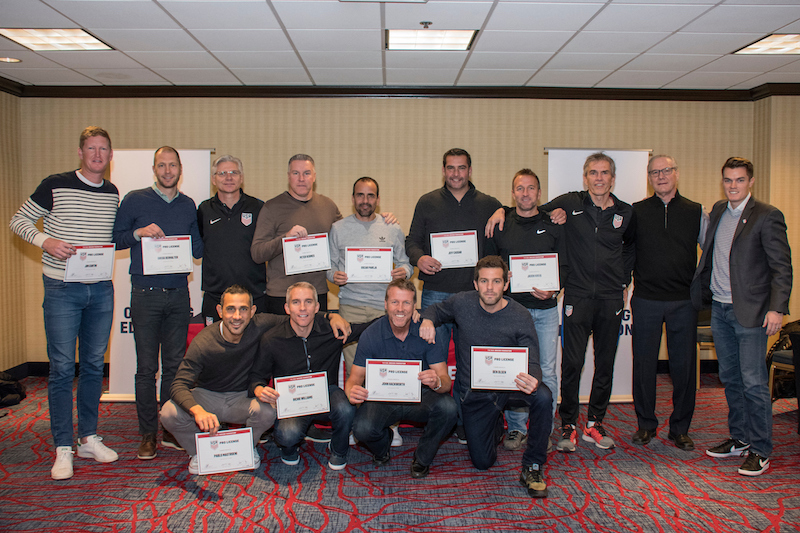 First USSF Pro grads, featuring MLS, USMNT staff and the new USMNT HC. Source: USSF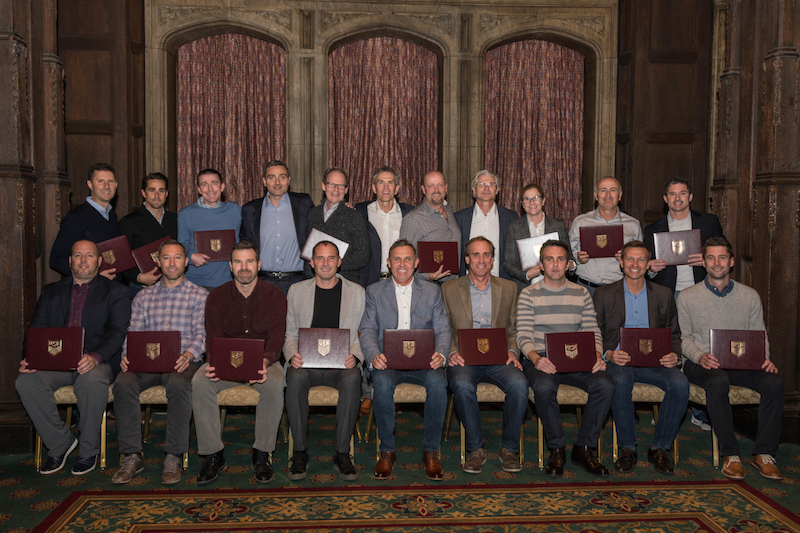 The 2nd Pro License Class, 2017. With a former local coach and player pictured. Thank you USSF.