By
Sean McCaffery
, October 24, 2017

 Former Captain America, multiple times national champ with NY Arrows David D'erricco, Jim Kilmeade and Tom Byer.   
                                                                                                                                                                                                                                                                                                              Tom Byer who I had heard marvels of for quite sometime is making his first Long Island Appearance. If you follow the fb of SLIM, you read a bit about him and actually saw photos of him with Jim Kilmeade,
a key player in this wonderful event. His ideas are revolutionary, any/all with young soccer kids should make it to this event. The fact that it is on Real Sports with Bryant Gumbal broadcast on HBO is another draw. This is certain to be talked about for quite some time do not miss out. He has been on TV for decades a few times a week in the huge markets that are China and Japan. See the full release on the FB page of Soccer Long Island Magazine.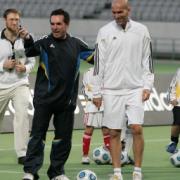 Byer with Zizu...
Monday Oct. 30 @ 7pm. Hosted by BQE Soccer Partners and the Massapequa Soccer Club.