By
Sean McCaffery
, January 31, 2020
FOX Sports KC, the sole home to the team, will carry 32 games and ex-pro Peterson will have the color, he was with SKC from 2012-'16 as a forward, the play-by-play will be handled by Nate Bukaty with the touchline work shouldered by Carter Augustine.
Jacob had a stellar time in MLS for his 12 years totalling 15 goals and 10 assists over 135 games with SKC. The crowd loved him for his many capabilities and non stop engine. He was with the team for both the 2012 & '15 Lamar Hunt US Open wins and the playoffs in his first 5 years. He set his personal best of 6 goals in his last year with the team, not the least of which was the team's Goal of the Year during a 3-0 defeat of the Sounders who would go on to win the league.
Peterson informed "I couldn't be more excited to join the television broadcast team for the 2020 season. During my 5 years playing for Sporting, my family and I fell in love with this club, this city and its people."
Given his playing time he will lend that unique viewpoint with the way the game is boken down and occurring, unique video content will feature him, key team events and well informed talks with coaches and players alike. Out of Portage MI, he has 25 goals and 17 assists overall in 267 MLS games. He featured with the Rapids 2006-'09, Toronto 2010-'11, San Jose 2011 & Atlanta 2017. Playing for his country on the USYNT's at the U-17 & 20's had to be a thrill as he was at the 2005 FIFA U-20 World Cup and took a pair of titles with Indiana in 2003 & '04.
For his part, Bukaty is now in his 3rd decade behind the mic on TV & radio and back with SKC for his 6th year. He has called games on the national level with FS1 and women's soccer for UK, he has provide world wide insight with the 2018 Tournament of Nations with the USWNT. He is from KC and has been at the helm of The Border Patrol as a co-host on Sports Radio 810 WHB for 13 years. Other teams on his resume include, the Kansas Athletics, KC Royals, Missouri Comets, nee KC Attack.
Augustine marks 9 years with the team and 3rd a full year with in his position. He will add to the games via his details on the field, pregame, halftime and post game chats with players and Peter Vermes. Weekly training reports will be on him out of the Pinnacle and he and Buktay both host the Sporting KC Show Podcast. The voice of Kansas City II for 4 years now, he handles the play-by-play on ESPN+ for them. 
ABC, ESPN & Univision will get in on the games with 3 going national, Any games not on nationanly are carrieed by their FOX outlets regionally. Sporting KC produces the telecasts at the regional level, they are bolstered by a half hour long pregame and postgame show.
Radio is carried by WHB and La Grande 1340 AM, all 34 games are on WHB or sister stations as La Grande handles the Spanish language coverages.
For moe photos and video see the Facebook page of Soccer Kansas City Magazine.
Below the very colorful, new color man, Jacob Peterson.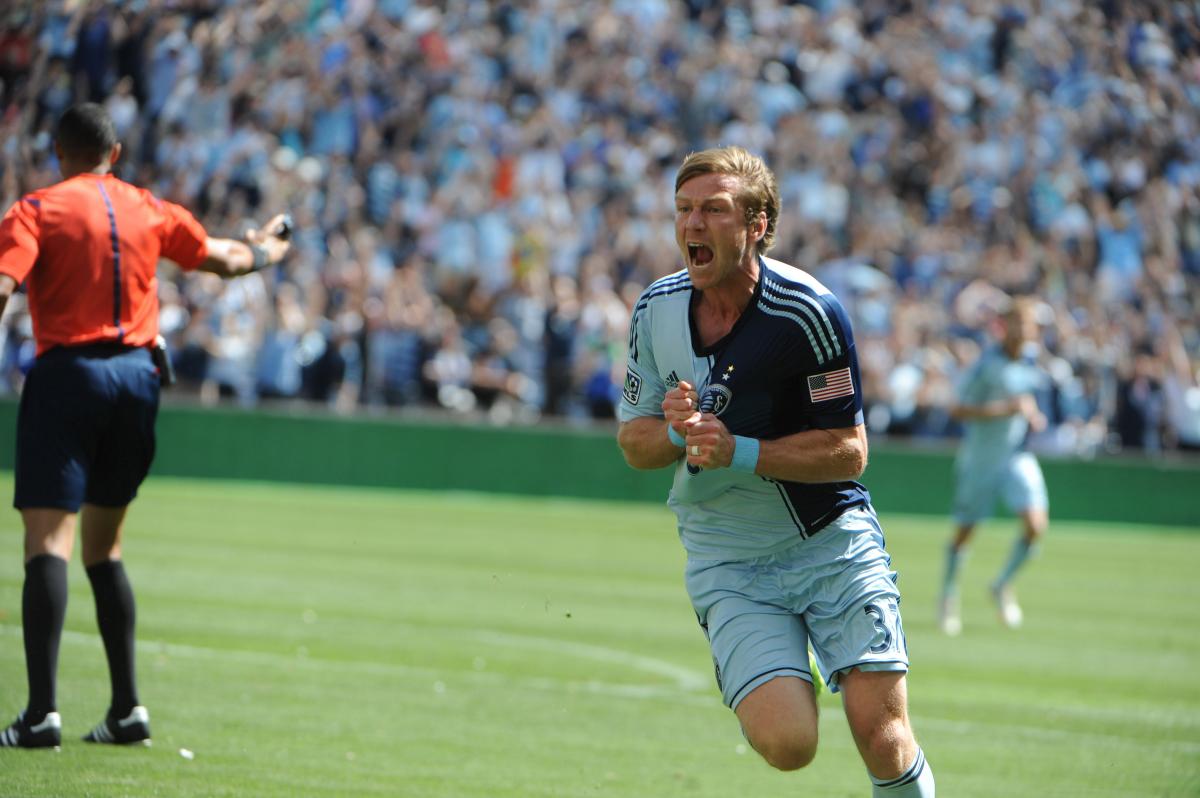 Photo source, Sporting Kansas City.