By
Kevin McCrudden
, October 20, 2015
Miami, Florida. October 15, 2016. - Pelé, the greatest soccer player of all time, in conjunction with KLF SPORTS and Soccer Marketing and Promotions, will be hosting a once-in-a-lifetime, two-day weekend father and son/daughter soccer camp. The event will be held in Miami, Florida, on Saturday, November 21 and Sunday, November 22, 2016 at the Florida International University soccer stadium. Participants will have the opportunity to meet one of the world's most amazing athletes in person.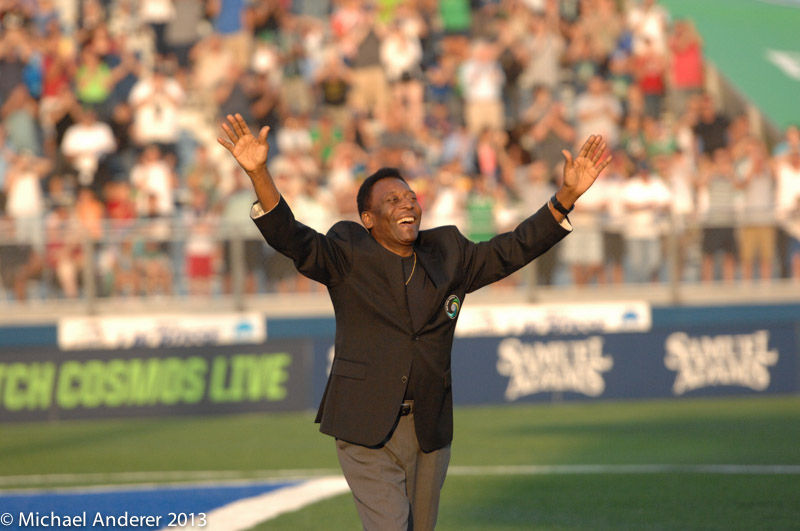 Pelé will be giving his personal soccer instructions and advice as part of the camp curriculum. The dream camp has limited space available and is on a first come basis. 
Jose Sotolongo, Executive Director of the Miami-Dade Sports Commission, said: "It is an honor to have the king of soccer choose our community to host such a unique and special event. I'm sure people will attend from all over the world and what better place to host such an event than Miami-Dade."
The camp is open to any combination of father and son or daughter of all ages and of course soccer moms are welcome as well. Bring a ball and come dressed to play with the world's most honored soccer player. To secure your place or for more information go to www.cbfcamps.com or call 888-547-9072.
Soccer Tom Mulroy, a South Florida soccer staple and the President of SM&P, will be the master of ceremonies. "It was a dream to play against Pele as a professional player for the Miami Toros back in 1976 when he awarded me with his jersey after our game in Yankee Stadium" Mulroy said. "Now, nearly 40 years later, it's still an honor to be on the soccer field with Pelé, the king of soccer. What an opportunity for soccer fans to meet him in person! I'm super excited I can't wait."
About: Pelé. The King of Football.
In 1961 the country of Brazil declared Pelé as a national treasure. He is considered the best soccer player of all time. Pelé is the only footballer to have been three-times world champion, in 1958, 1962 and 1970, with the Brazilian team. He amassed an incredible array of honors with the two professional clubs he played for (Santos FC and New York Cosmos), winning the Intercontinental Cup (1962 and 1963), the Copa Libertadores (1962 and 1963), the North American Soccer League (1977) and the São Paulo championship (ten times) in the 1950s, 1960s and 1970s.
Since his retirement from the sport, Pelé has been an ambassador for the UN and UNESCO for Education, Ecology and the Environment. The one and only!