By
Sean McCaffery
, August 25, 2018
Mercy First, a facility in my hometown of Syosset for well over a century now and also has off site facilties, has many children who have been separated from their parents at the border.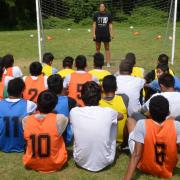 Seeking to NOT make any sort of political statement, we went out to conduct an hours long soccer clinic and games with them. Joining me was Salma Tarik, a USSF C Licensed coach as am I and Diego Laserna also a long term Syosset resident and holder of a F Liscense. Salma runs the ST10 soccer program here on Long Island and plays for the Egyptian Women's National Soccer Team. Our presence was solely in support of the children who through no fault of their own are in a bad way. They had come out already to see one of the games played by the Lions Gibraltar FC and had a great time in doing so. Please follow along as we seek to bring them out to other soccer events and bring some to them as well.
It was great to see that most were decent soccer players making it far easier to conduct this event. All participants despite my highly limited Spanish seemed to have a great time, as echoed by our contact there. There were in excess of 30 boys present, all very well behaved, focused and eager to hear what we had to say. They were very impressed to meet Salma and get the chance to face her on the field.
For myself, this was most certainly one of the more rewarding things I have done in soccer. I for one though only a second generation American cannnot even imagine what they are going through. They are in a foreign land, different cultures, food, language, separated from their family, surrounded by insecurity as to what is next, yet we connected very well over the beautiful game. The staff were pleasantly surprised at how well the players responded to us, how they followed our direction and put forth tremendous effort.
We all look forward to returning to their venues and doing this all over again. I encourage all who may have anything to lend to these young boys, please feel free to reach out to me to do so. If you have a talent, a sport, art, music, etc. I think it would be a welcome addition to the current programing they attend.
The LIU CW Post based Valencia CF Academy New York has reached out to do things  with us. Fellow Syosset Brave, Howie Zwang of Gotham T-Shirts, based in Sea Cliff, has also contacted to make up shirts for the boys. Their interest is greatly appreciated as they made their offers as soon as they heard of our efforts here.
Special thanks to Legis. Joshua Lafazan, also a Syosset grad for his help with this following his fundraising event for these same boys at the Hurricanes restaurant in Syosset.