By
Sean McCaffery
, April 13, 2018
Contributed by Steven Torres
The 2018 edition Concacaf Champions League Final will feature its first-leg series next week at BMO Field when Canadian side Toronto FC host Mexico's CD Guadalajara (Chivas)
With this North American match-up on Tuesday, we take a quick historical look back at the first Canadian team, Toronto Serbian White Eagles FC, that competed at a confederation tournament and at the same time took on a Mexican club, CF Monterrey, in the process.
Serbian White Eagles, founded 1968 as a semi-professional club, progressed to the 1975 Concacaf Champions' Cup after it finished atop of the Canadian National Soccer League Regular Season Standings the year before.
The White Eagles began the 1975 tournament's opening round when it traveled to Monterrey, Mexico to take on Los Rayados in the first-leg encounter on July 5. Goals from Alfredo Jimenez (33rd) and Jose Sanchez (90th) gave Monterrey the victory over the Canadian side.
The second-leg was held a week later (July 13) at the Canadian National Exhibition Stadiuim in Toronto in front of 2,500 spectators saw the enocunter offically end in a 1:1 draw.
Ruben Romero Corbo gave Monterrey the lead in the sixth minute , with Mike Wareika answering for the White Eagles 29 minutes later, however, the match was stopped in the 67th minute by U.S. referee , Harry Landauer, when 100 fans invaded the field after a scuffle between the two teams that resulted into a free-for-all.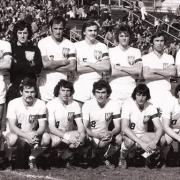 Photo credit Djuradj Vujcic
It would only be the second time in the history of the Champions' Cup that a game was abandoned and the result stood as the final score.
Written by Steven Torres.