By
Sean McCaffery
, June 6, 2019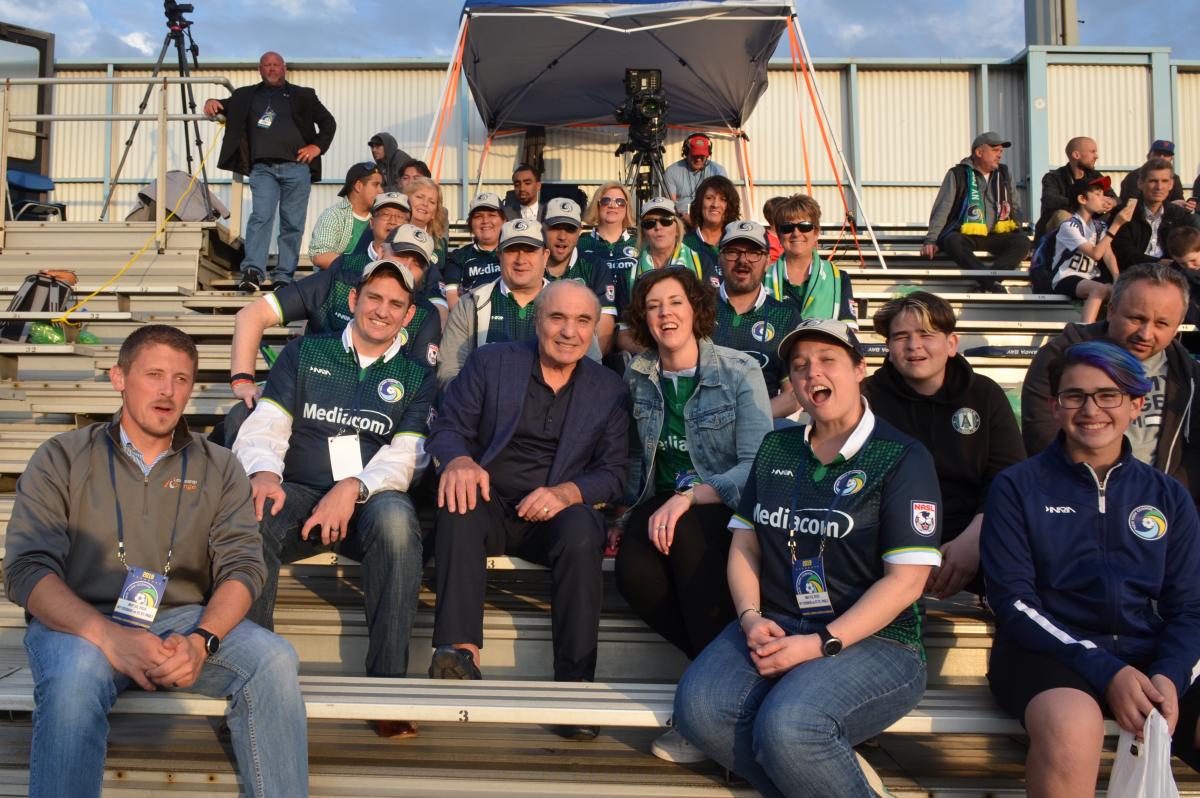 Above, new Fiorentina owner Rocco B Commisso and employees of his Mediacom Communications Corp. at a recent NY Cosmos game.
Already the owner of the biggest brand in USA Soccer, the New York Cosmos and the 5th largest cable system in the nation serving over 1.4 million people and employing in excess of 4.500 people, here he grows again. This imigrant from Calabria Italy at the age of 12, joining his brother and father who went before him, he now has a top team from his adopted and native nations. Earlier today, the transaction was finalized in MIlan for the team as it approaches the century mark in 2026. Rocco had this to say, "As a lifelong follower of Italian soccer, words cannot describe how incredibly honored I am to be part of writing the next chapter in Fiorentina's storied history. During my 3 year pursuit of this club, I gained a tremendous appreciation of how important La VIola is to the city and it's loyal fans."  He continued, " I would like to thank the Della Valle family for their stewardship of Fiorentina for the past 17 years. Diego and Andrea deserve high praise for rescuing this organization from financial ruin. They leave behind a solid foundation upon which to build the club." For their part, the Della Valle's made this statement, "A new chapter starts for the Viola team that we hope will bring many successful seasons especially for the respectable supporters and the city of FLorence. In assessing the various offers received, we did not prioritize economic benefits, took in great consideration Rocco Commisso's expertise and competence in soccer. A great "good luck" to Rocco. It's with great gratitude that we salute all the people who have worked with us in the last 17 years and have given their best for the Viola family."
Rocco has been involved with soccer since childhood, a standout player at Columbia, his freshman year of 1967 that saw the team go undefeated, co-captain of the 1970 squad achiving the first NCAA bid, thrice over an All-Ivy selection earning him a tryout with the 1972 Olypmics that featured amongt others, ex- Cosmos Goalkeeper Shep Messing. He then went on to the rugged semi pro level in the NYC area, then coaching youth soccer for a decade and a half, all the while a strong supporter of his Lions. In the mid 70's he started the Friends of Columbia Soccer and headed it from 1978-1986 as chairman. He was honored with the naming of the soccer stadium at Baker FIeld as Rocco B Commisso Soccer Stadium. 
We first came to know Rocco a few years ago as he was enshrined in the NYC Soccer Gala at the venerable NY Athletic Club which his NY Cosmos just defeated this past weekend. Always taking time for his players staff and most importantly fans, Rocco does not sit in a suite or owners box, he is right there with the supporters in the bleachers.
P.S. Rocco, my passport is current, Spanish is close to Italian and I can bring a tri lingual physio with me, hint, hint, wink, wink, nod, nod.