By
Kevin McCrudden
, April 19, 2016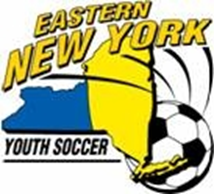 April 19, 2016-Soccer coaches, who want to become the best coaches they can be, need to travel to Hicksville this June. The Eastern New York Youth Soccer Association (ENYYSA) is very pleased to announce the National Youth License Course on two weekends, June 17, 18 and 19 plus June 24, 25 and 26.
This career-changing educational event includes sessions where the candidates actually work with players of 6 years, 8 years and 10 years of age. The course will be held both indoors in a classroom setting at Upper 90 Long Island, 100 Lee Avenue in Hicksville plus outdoor field sessions at Giese Park, 100 Lee Avenue in Hicksville. All sessions are videotaped for instant feedback. The registration fee is $795. 
When asked about the importance of this National Youth License course, Eastern New York's Director of Coaching Instruction, Tim Bradbury, stated, "I frequently come across youth coaches who have spent time getting their A license or Premier Diploma when their time would have been much better spent attending the National Youth License. When I look back on my own coaching development, it was this course that had the most impact and led to my greatest development. This course should really be a must for all youth coaches."
The details and registration for this event can be found at http://enyysacoach.siplay.com/site/, then scroll down on the left to National Youth Coaching Course. 
With over 100,000 youth soccer players––both boys and girls––and more than 25,000 volunteers, the non-profit Eastern New York Youth Soccer Association (ENYYSA) stretches from Montauk Point, Long Island to the Canadian border. Members are affiliated with 11 leagues throughout the association, which covers the entire state of New York east of Route 81. ENYYSA exists to promote and enhance the game of soccer for children and teenagers between the ages of 5 and 19 years old, and to encourage the healthy development of youth players, coaches, referees and administrators. All levels of soccer are offered––from intramural, travel team and premier players as well as Children With Special Needs. No child who wants to play soccer is turned away. ENYYSA is a proud member of the United States Soccer Federation and United States Youth Soccer Association. For more information, please log on to http://www.enysoccer.com/, which receives nearly 300,000 hits annually from the growing soccer community.