By
Kevin McCrudden
, January 15, 2015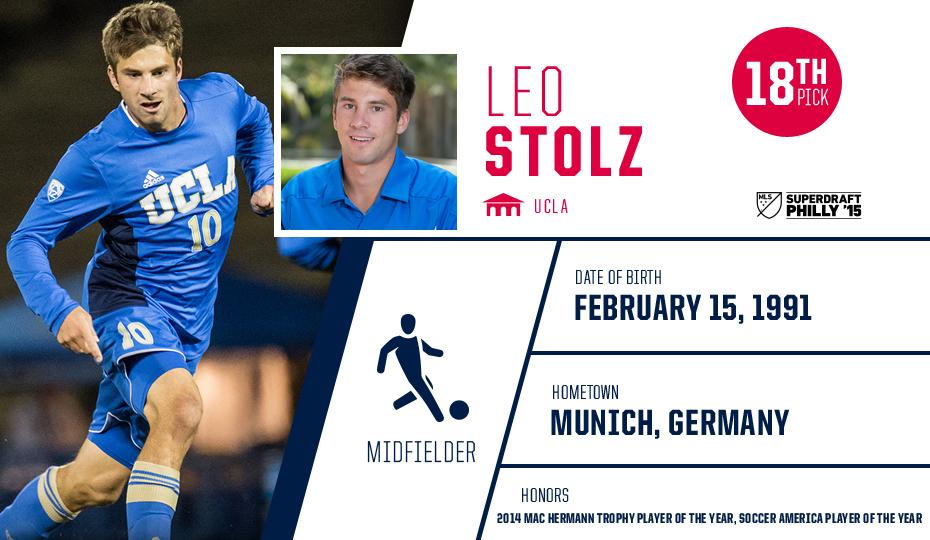 PHILADELPHIA, Pa. – The New York Red Bulls selected UCLA midfielder Leo Stolz with the 18th overall pick in the 2015 MLS SuperDraft on Thursday afternoon at the Pennsylvania Convention Center in downtown Philadelphia.
"Leo is the most pro-ready player in this draft," said sporting director Ali Curtis after the pick.
Earlier this week, Stolz earned the 2015 Mac Hermann Award, which recognizes the best player in college soccer. He was a finalist for the trophy last year.
Stolz, a native of Munich, Germany, was a two-time captain for the Bruins. During his three seasons, he compiled 20 goals and 22 assists in 63 appearances, earning All-American honors twice and leading UCLA to the postseason three times. As a senior he netted a team-leading nine goals and six assists, seeing UCLA through to the NCAA semifinals.
"Leo reached out to us in the past week and told us that he is very interested in Red Bull," said head coach Jesse Marsch.
"Although he had not shown interest in signing with the league that, because of, partly our connection with Salzburg… and partly, he wanted to play in New York, he knew about the club, he had heard good things about me, and so he reached out and let us know that this is a place he wanted to be," continued Marsch.
"This is the Mac Hermann award winner, and we think this is the most pro-ready player.  We think he'll be ready to step in. There will be a bit of an adjustment for him, but we expect him to contribute this year."