By
Sean McCaffery
, June 7, 2018
Contributed by Steven Torres
In a Hudson River Derby match-up between these MLS sides on Wednesday evening had New York Red Bulls defeating visiting NYCFC (New York City FC), 4:0, at Red Bull Arena in Harrison, N.J., during fourth round of 2018 Lamar Hunt U.S. Open Cup.
The crowd of 9,496 saw their second Hudson River Derby, after sides had already met last month in league play with Red Bulls winning 5:0.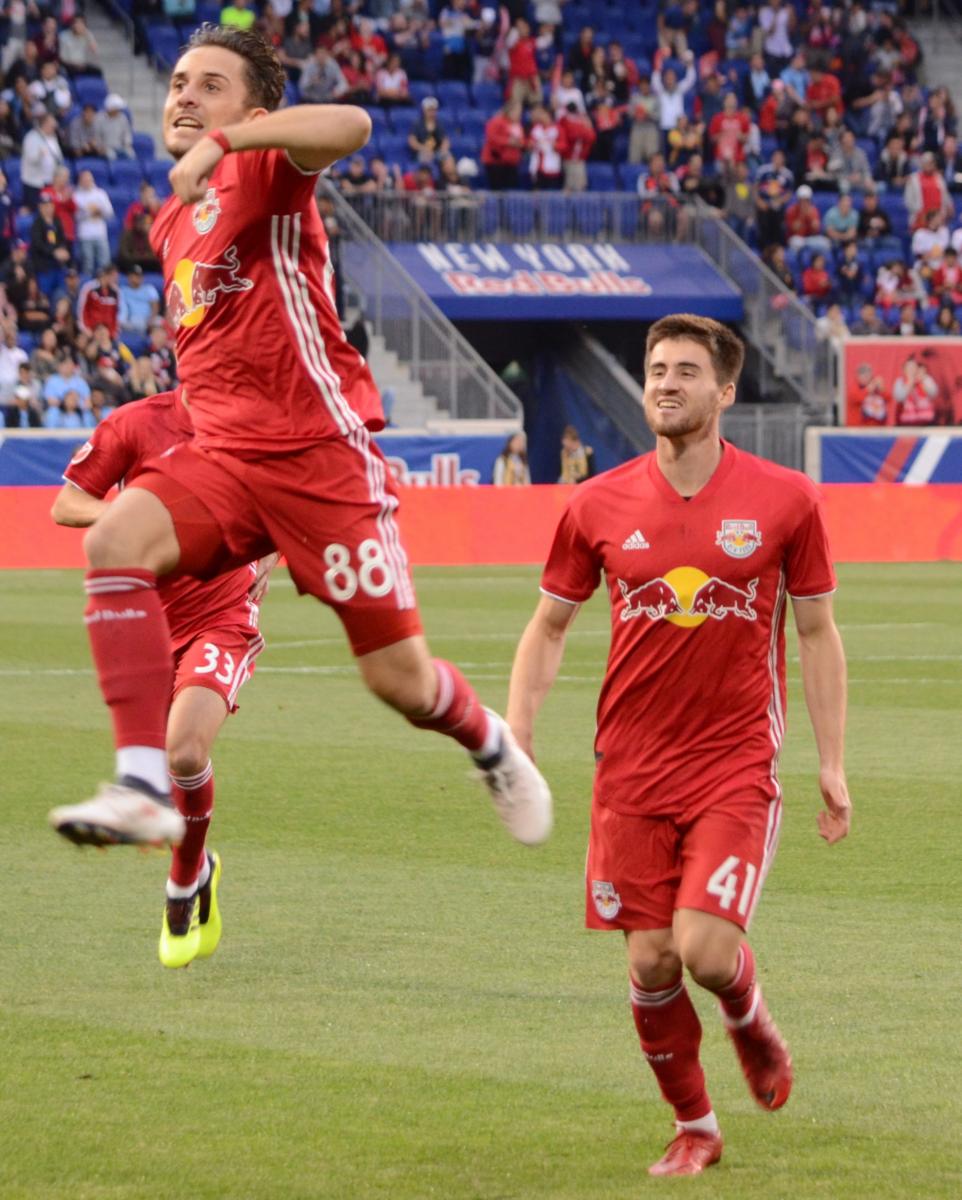 On Wednesday, the result once again favored the Red Bulls got on the board in the opening two minutes of play with a goal from French midfielder Vincent Bezecourt.  Defender Aaron Long made it 2:0 for the hosts with a tally in the 52nd minute-mark.
Austrian international forward Daniel Royer closed out the scoring with back-to-back goals in the 87th and 89th minutes, respectively, for the Red Bulls 4:0 final.
The Red Bulls will travel for their Open Cup 'Round of 16' encounter against Philadelphia Union in Chester, Pa.  The match-up is scheduled for either June 16, 17 or 20.
2018 U.S. Open Cup – Fourth Round
06.06.2018: Harrison, N.J.; Red Bull Arena (A: 9496)
NEW YORK RED BULLS – NEW YORK CITY FC 4:0 (1:0)
Vincent BEZECOURT 2'; Aaron LONG 52'; Daniel ROYER 87', 89'
NY Red Bulls: Ryan Meara – Aaron Long (60: Aurélien Collin), Ethan Kutler, Hassan Ndam, Kemar Lawrence (68: Connor Lade), Alex Muyl, Daniel Royer, Marc Rzatkowski, Sean Davis (78: Florian Valot), Vincent Bezecourt, Derrick Etienne.  Booked: Davis 34'
Coach: Jesse MARSCH
NYCFC: Brad Stuver – Ben Sweat, Cédric Hountondji (6: Sebastien Ibeagha), Maxime Chanot, Saas Abdul-Salaam, Ebenezer Ofori (76: James Sands), Jesús Medina, Jonathan Lewis, Kwame Awuah, Thomas McNamara, David Villa (57: Joseph Scally).  Booked: none
Coach: Patrick VIEIRA
R: Fotis BAZAKOS
Written by Steven Torres