By
Sean McCaffery
, May 8, 2020
A trio of years with the NY Cosmos, his most recent pair of years have him at the top in goals for that time, while his first year had him signed but playing with the B side to then link up the last handful of NASL games. Bledi stated he first came to know of the team upon his arrival in the states, did some research and saw the great players of their past and is now aware of the team being the biggest team in the states as well as Europe in the history of soccer here. Bardic has yet to go home since arriving here, his family did join him here, yet does expect to get back in the near future. The first pro player to come out of his town, this is a source of pride for the player and the town, they are fully aware he has fulfilled his dream of playing pro, some residents were in fact aware of the NASL from its first incarnation
In his brief soccer history here he has fared well, 15 months as a non rostered or signed player with a contract out that due to paperwork was unable to be finalized had him training with NYCFC from 9/16 through 12/15. 2016 would see him with PRFC for the half of the season for the Carmelo Anthony owned team and his first pro deal, there he had a trio of goals, one a gwg, and he struck 2x v the PRNT. Next up in 2017, is the team with whom he would be best known, the best known of all the NY Cosmos. In on a 1 day trial and he has not left yet, following a Bermuda trip he would then be assigned to the 2nd team where he would score double digit goals and then come Aug. get to the first team, playing against Valencia and going to the Soccer Bowl loss to the Ultras in SF among his 4-5 NASL games. An injured hamstring in 2018 did keep his total number of games down but his goals were higher as he played 11 games netting a dozen times, again just missing a title he was left frustrated at being unable to help due to being hurt.  2019 had a pair of goals in the Lamar Hunt US Open Cup being a highlight of the year on a personal level as he bagged a total of 10 despite reduced playing time in the latter part of the season. He had a single goal in Members Cup play for a total of a bakers dozen on the season Bledi hit, three absolute bombs from beyond the box, the one in Hartford on a rain soaked evening that we were witness to was from a good 30+ yards, played on ESPN as a top 10 athletic act. He struck from another time zone it seemed agains NYAC, when asked, coach Mendes stated that yes it was just as they drew it up on the training field. The home crowd did get to witness another long distance goal that may very have well made it to Hofstra.
He told that his favorite goal was the one in Hartford while his 2019 USOC goal being his most important, sent home in the 95'. This extended off season, with NISA not playing their spring season has him doing private soccer training for those aged 10 and up, hoping for the new normal so he may then also incorporate small sided training sessions. His training has been on his own, some games with U-20's players and solo fitness work.
Bledi wishes for all to stay safe, pass through this tough time and be patient as better times are coming.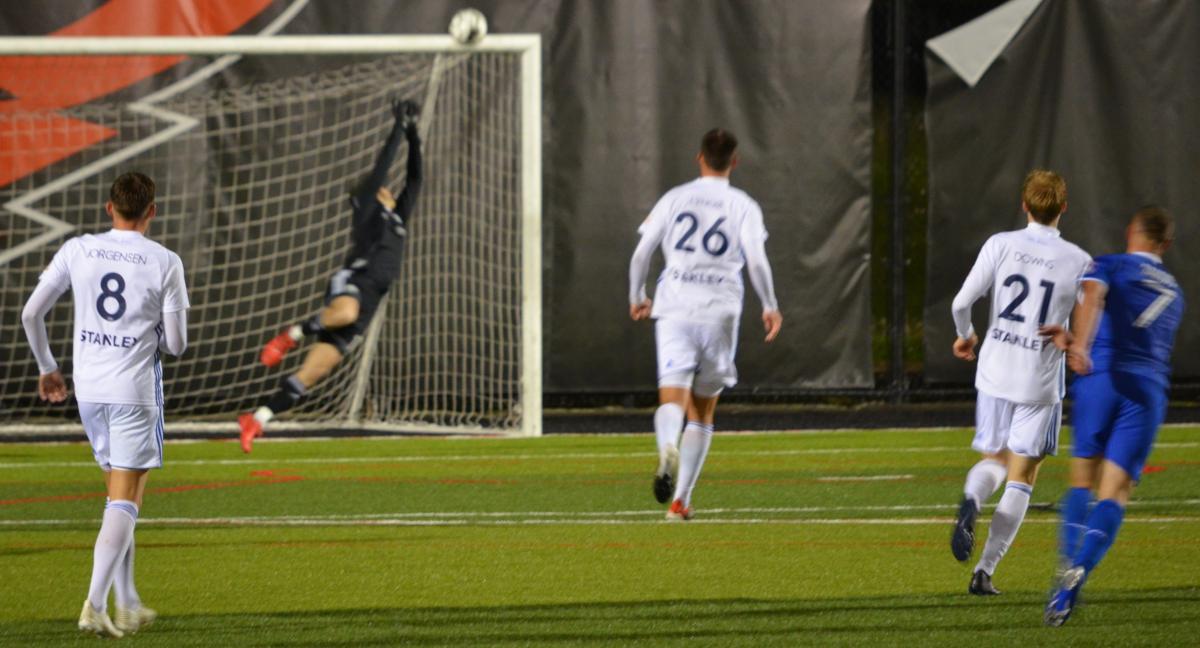 The goal facing Hartford.