By
Kevin McCrudden
, April 29, 2016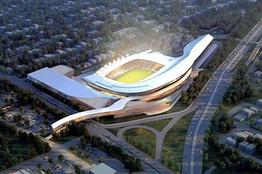 ATTN: Governor Cuomo, Senator Flanagan and Assemblyman Heastie
This past week, Long Island's largest newspaper, Newsday, reported that there was a "protest," against the proposed soccer stadium at Belmont, located in Elmont on the borderline of Queens and Nassau County. It's interesting that a gathering of about 12 or 15 people is now considered a "protest" on behalf of a community of several thousand.   Here is a link to the article:
http://www.newsday.com/long-island/nassau/elmont-residents-protest-proposed-belmont-stadium-1.11725868
What's puzzling is the "protesters" say that Elmont needs jobs.  The proposed $450 million project provides hundreds of part-time and full time jobs in a variety of industries. So the protesters' main focal point is already answered by the proposed stadium, which has restaurants, a movie theatre and hotel as a part of the proposal.  So, there is evidently more to this than meets the eye.
You see, "WE," the soccer community of Long Island and the New York Metro have not been just waiting for a "soccer stadium" for the past three years that this proposal has been languishing in Albany, but "WE" have been waiting for a soccer stadium FOREVER!
New York  City, arguably "the melting pot" of America and the world is home to one of the oldest soccer communities in America!  As people from all over the world entered New York and came past The Statue of Liberty and into Ellis Island, they then went into little ethnic communities all around New York City and Long Island and played their native game of soccer/football/futbol in our streets and on our fields. Even the original New York Cosmos, before they had stars like Pele, played in a makeshift "stadium" at Hofstra University, where, for those that remember, was a green turf thrown on top of a concrete field that caused all types of injuries and scars that many players probably still have.  I remember, because I was one of the original ball boys.  Those Cosmos of the 70's and then 80's had to move several times from Hofstra, to Randalls Island, to Yankee Stadium and finally to New Jersey and Giants Stadium.  A "football" stadium...an American Football Stadium.
You see, even the greatest team in American history was from New York, but still didn't have a home in New York or Long Island.  And "WE" the fans have had to travel miles and hours to see professional soccer, when "WE" are in essence, the "birthplace" of soccer in America.
Yes, soccer is "booming" in America and you can now find it on TV almost everywhere, but you still can't find a God Damn soccer specific stadium in New York!!
The proposal for the stadium in Elmont is spectacular and that is what New York deserves.  (Seen Here):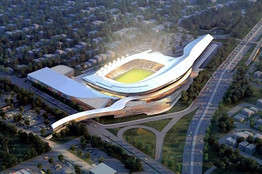 After all of these years, New Yorkers deserve to attend soccer events, whether they be local clubs or teams from all around the world that we love to support on TV in a local soccer specific stadium.  New York is the ONLY world class city without a world class soccer stadium. 
Ideally, I think "WE" all agree, that a soccer stadium on the water in Manhattan would become a global spectacle and one that we could be very proud of as New Yorkers!  (sketch pictured here:)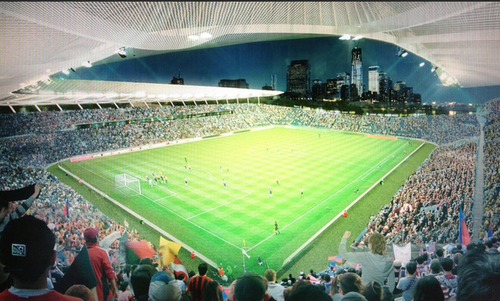 However, it seems that has become impossible, and therefore, the current proposal that Albany has been sitting on for political reasons for over three years, is "OUR" best chance to finally have a proper soccer specific stadium, NOT in New Jersey, but here in New York.  AND, if necessary, which is seemingly the case, as I wrote 3 years ago, make both New York teams, NYC FC and the Cosmos SHARE the stadium, just like the Jets and Giants share "Met Life Stadium," formerly "Giants Stadium," where the Giants, Jets and Cosmos played to capacity crowds.
Governor Cuomo, Speaker Flanagan and Speaker Heastie, PLEASE GIVE US OUR STADIUM!  "WE" ARE TIRED OF WAITING!