By
Sean McCaffery
, June 2, 2018
Contributed by Steven Torres
New York City FC (NYCFC) extended its home winning streak to six games this season (seven overall) after posting a 3:0 victory over visiting Orlando City SC in MLS action on Saturday evening before a crowd of 22,103 at Yankee Stadium in the Bronx.
NYCFC, who improved to 8-3-3 in league play, had Libyan midfielder Ismael Tajouri-Shradi notched his first of two tallies of the match in the 35th minute.
Orlando City, who drops to 6-6-1 ledger, had a chance to level the score in the 49th minute-mark, however, U.S. international midfielder Sacha Kljestan's penalty kick shot hit the post of NYCFC & U.S. Goalkeeper Sean Johnson.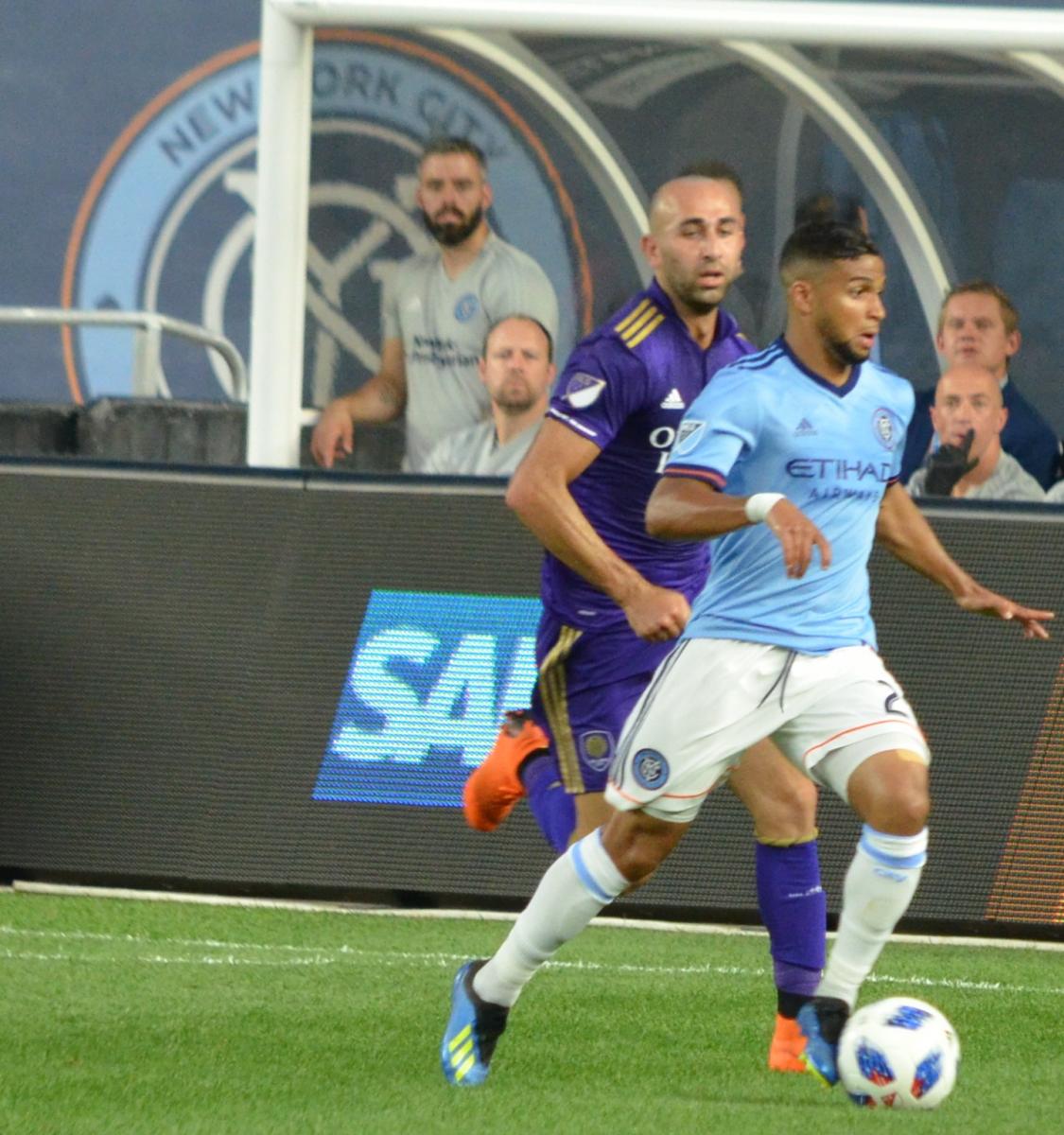 Tajouri-Shradi scored his second goal of game in the 79th minute off a free kick to make in 2:0.
Argentinean international midfielder Maximiliano Moralez closed out the scoring with NYCFC's third goal with two minutes remaining
NYCFC returns to the field on Wednesday (June 6) for a Hudson River Derby against New York Red Bulls, during fourth round of 2018 Lamar Hunt U.S. Open Cup, at 7:30 pm ET in Harrison's Red Bull Arena.
Orlando will also see action at the U.S. Open Cup this Wednesday when it travels to face Miami United FC of NPSL (National Premier Soccer League) at 7:30 pm ET in Hialeah's Ted Hendricks Stadium.
06.02.2018: Bronx, N.Y.; Yankee Stadium (A: 22103)
NEW YORK CITY FC – ORLANDO CITY SC 3:0 (1:0)
Ismael TAJOURI-SHRADI 35', 79'; Maximiliano MORALEZ 88'
New York City FC: Sean Johnson – Alexander Callens, Alexander Ring, Sebastien Ibeagha, Anton Tinnerholm, Ebenezer Ofori, Thomas McNamara (46: Ben Sweat), Maximiliano Moralez, Ismael Tajouri-Shradi (82: Jonathan Lewis), Jo Inge Berget (65: David Villa), Jesus Medina.  Booked: Moralez 77'
Coach: Patrick VIEIRA
Orlando City SC: Joseph Bendik – RJ Allen, Tony Rocha, Donny Toia (62: Mohamed El-Munir), Will Johnson, Cristian Higuita (82: Jose Villarreal), Sacha Kljestan, Oriol Rosell, Chris Mueller (68: Stéfano Pinho), Justin Meram, Josue Colmán. Booked: Rosell 78', Johnson 86'
Coach: Jason KREIS
R: Hilario GRAJEDA
Written by Steven Torres