By
Sean McCaffery
, December 17, 2018
The most recent interm HC of the USMNT has landed with NCFC, I am surprised that he was still available for hire at this time.  The signing is seen as the start of a new era by the team as they enter this next step in their evolution. He will of course head the pro team while keeping a keen eye on their youth-to-pro pipeline and player development with Academy Director, John Bradford retaining that position while serving as the assistant coach. Nic Platter is now advanced to Asst. GM as he continues on as GK coach, more staff announcements are forthcoming. Now the 4th coach in the dozen years of the team, he will be formally introduced Jan. 3, 2019. NCFC Pres. & GM Curt Johson said "We are thrillled to welcome Dave Sarachan. Dave has been a highly respected leader for both club and country, and knows what it takes to grow a club, develop world class talent and win." Sarachan added "I am very excited to be joining NCFC as its head coach."  Coaching for quite some time now and with terrific successes at each stop, his crowning glory is the MLS Supporters Shield and a pair of Lamar Hunt US Open Cups during his time at the HC of the FIre. in 2003 he was awarded the MLS Coach of the Year and has an overall 75-57-33 record at the helm of the Fire. From Rochester NY, he had been a player with the Rochester Lancers and also played indoor with the Buffalo Stallions of the original MISL. Most recently the HC of the USMNT from Nov. 2017-Dec. 2018 as the search was conducted for a new one he had many moments of greatness in this position. Knotting up Portugal 1-1 as they were the European Champions, just prior to the World Cup, also tying the eventual winner, France by the same score and a solid 1-0 defeat of Mexico in Mexico, a rare occurance. Dave had a massive role in the next generation of players in that 23 players would earn their first caps including Long Islander Tim Parker and Tim Weah of Queens. This should be of great help in the upcoming qualification process for the 2022 World Cup and in the years following. From the long line of coaches from another Long Islander, Bruce Arena, who had played at Cornell.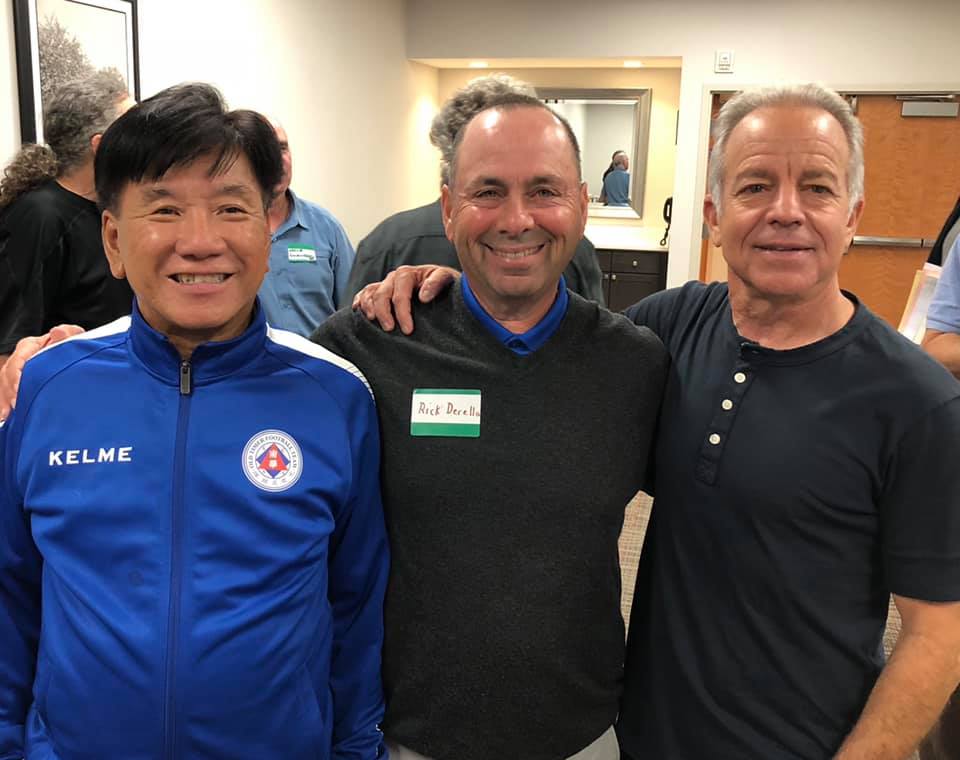 Photo source: Rick Derella. Joe Mui, Oakwood Academy Director Rick Derella & Dave Sarachan at a recent event for their ailing coach @ Cornell, Dan Wood.
Sarachan was a trusted assistant with 2 MLS dynasties first with DC United as they took the Concacaf Champions League title in 1998 then, a year later as they secured both the Supporters Shield in MLS as well as the league title. Next off to LA Galaxy as an Associate Head Coach and a trio of MLS Cups in 2011,'12 & '14 to go with a pair of Supporters Shields in 2010 & '11. He also served as an asst. in the 2002 World Cup that saw the upstart USMNT gain the quaterfinals. An All-American at Monroe CC then off to Cornell with an Ivy League title in 1975 & repeat trips to the big show in 1975 & '76. At Cornell, he played alongside Joe Mui of Toronto who played in China and Hong Kong, an indoor legend as he took the MVP in numerous tournies at Pratt. Dave's coach at Cornell, Dan Wood had been the head coach for Ted Turner and the Atlanta Chiefs of the NASL. At the culmination of his 7 years as a pro it was back to the Big Red and coaching there with a 15-2-1 record in 1995 as he was there 1989-'97 with  an Ivy League title in '95 and NCAA tourney appearance and the best year in program history.