By
Sean McCaffery
, August 28, 2018
The Derby had to be a let down, with a man advantage for the last 15 minutes or so of the first half, then a 2 man advantage for the last 25 not only did NYRB not net a goal they gave up the equalizer. Facing DC United, a far weaker side, they were not exactly dominant. Keeping an unbeaten all-time record with the team from Texas that now stands at 7-0-1 should build some faith. They do enter this game riding a 5 game unbeaten streak and the Dynamo at 7-11-7 should be their next victim 
Kickoff is at 8 p.m. ET with MSG, MSG GO & New York Red Bulls Radio all providing coverage, RBNY Radio in Spanish as well on TuneIn. At 7 p.m., the Honda Countdown to Kickoff begins with Matt Harmon, Ernesto Motta takes over in Spanish at 8.
Wed. is the 4th game in just 12 days and will be the 5th over 15, all without dropping a match, but achiving one win, the 'Caps tie was well earned, NYCFC, not a good result at all.  NYRB has done well facing their Western Conference foes. NYRB has not lost at home to 8 opponents this year, Atlanta, Colorado, Dallas, LAFC, Minnesota, Montreal, New England and San Jose. 
Kaku stopped a 16 game goaless skid with his 56th minute winner, the young DP now has 4 goals, all GWG quite a feat, 4 assists have also been game winners, giving him points on the winning goal in half the teams' victories.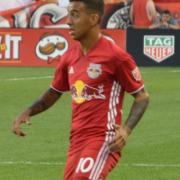 Please see the Facebook page of Soccer LongIsland Magazine for video on the game.