By
Kevin McCrudden
, May 25, 2016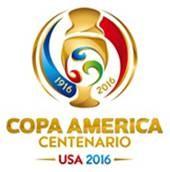 Experienced Referees from 18 Countries Have Been Selected to Officiate the Historic Event
CHICAGO (May 25, 2016) – The Copa America Centenario Local Organizing Committee has announced the referee designations for the summer tournament, featuring experienced match officials from 18 countries in the Americas.
The Copa America Centenario, a once-in-a-lifetime soccer event, which honors 100 years of the Copa America tournament, will feature some of the world's best teams and players competing from June 3-26, in 10 cities across the United States.
The 58 participating referees were selected from within CONCACAF and CONMEBOL. The team includes 18 referees, 34 assistant referees, and six reserve officials. Referees participating in Copa America Centenario have officiated in tournaments such as the FIFA World Cup, Copa America, Copa Libertadores and first division leagues across the hemisphere.
The selection process was overseen by each confederation's respective referee committees. As a prerequisite to officiate this tournament, each referee was required to pass the FIFA fitness test. From May 25 to May 31, the referees will report to the Copa America Centenario Referee Seminar in Chicago, where the officials will attend both technical trainings and theoretical sessions prior to the start of the competition. Game assignments will be announced prior to each match.
"The magnitude of Copa America Centenario requires the highest caliber referees from within the continent," said Director of Refereeing Brian Hall. "It is a unique honor for officials from both confederations to officiate this tournament in unison, while ensuring this once-in-a-lifetime competition offers fans and players world-class quality football. The pretournament referee seminar will be a great opportunity to prepare the referees mentally for an intense and competitive championship."
The selected officials will be based in Chicago throughout the tournament and travel to assigned games across the United States.
Copa America Centenario USA 2016 Match Officials
(by confederation and country)
CONMEBOL Referees

Country

CONMEBOL Assistant Referees

Country

LOUSTAU Patricio

Argentina

BRAILOVSKY Ezequiel

Argentina

SCIME Ariel

Argentina

VARGAS Gery

Bolivia

BUSTILLOS Javier

Bolivia

MONTAÑA Juan

Bolivia

LOPES Héber

Brazil

GIL Kleber

Brazil

BOSCHILIA Bruno

Brazil

BASCUÑAN Julio

Chile

ASTROZA Carlos

Chile

SCHIEMANN Christian

Chile

ROLDAN Wilmar

Colombia

GUZMAN Alexander

Colombia

NAVARRO Wilmar

Colombia

ZAMBRANO Roddy

Ecuador

VERA Luis

Ecuador

ROMEO Byron

Ecuador

CACERES Enrique

Paraguay

CARDOZO Eduardo

Paraguay

SALDIVAR Milciades

Paraguay

CARRILLO Victor

Peru

YUPANQUI Jorge

Peru

CARRERA Coty

Peru

CUNHA Andres

Uruguay

TARAN Nicolas

Uruguay

TRINIDAD Richard

Uruguay

ARGOTE José

Venezuela

MURILLO Luis

Venezuela

SANCHEZ Luis

Venezuela

Reserved Referees

Country

Reserved Assistant Referees

Country

SAMPAIO Wilton

Brazil

ROSSI Gustavo

Argentina

LAMOROUX Wilson

Colombia

GAONA Dario

Paraguay

FEDORCZUK Daniel

Uruguay

LEON Alexander John

Colombia
CONCACAF Referees

Country

CONCACAF Assistant Referees

Country

MONTERO Ricardo

Costa Rica

JARA Octavio

Costa Rica

MORA Juan

Costa Rica

MARTINEZ Yadel

Cuba

DOPICO Hiran

Cuba

RAMIREZ Christian

Honduras

AGUILAR Joel

El Salvador

ZUMBA Juan

El Salvador

TORRES William

El Salvador

GARCIA Roberto

Mexico

CAMARGO Jose Luis

Mexico

MORIN Alberto

Mexico

PITTI John

Panama

VICTORIA Gabriel

Panama

MORGANTE Charles

USA

GEIGER Mark

USA

FLETCHER Joseph

Canada

MANIKOWSKI Peter

USA

MARRUFO Jair

USA

ROCKWELL Corey

USA

PARKER Corey

USA

VILLAREAL Armando

USA
Copa America Centenario, which includes the participation of half of the world's top 10 nations per the May FIFA Rankings, will be broadcast around the world, and on the Univision Network and FOX family of networks, as well as on Futbol de Primera Radio in the United States.
Other notable group matches include a rematch of the 2015 Copa America final between Argentina and Chile in Group D on June 6 (10 p.m. ET) and a second continental finals rematch when Jamaica and Mexico clash on June 9 (10 p.m. ET) in a replay of the 2015 CONCACAF Gold Cup final.
The Copa America Centenario will feature some of the world's best teams and players. This historic tournament will feature the top star players from North, South and Central America, as well as the Caribbean. Lionel Messi, Javier "Chicharito" Hernandez, James Rodriguez, Michael Bradley, Clint Dempsey and many more are anticipated to take part in the tournament.