By
Kevin McCrudden
, July 1, 2015

WASHINGTON SPIRIT FORWARD CRYSTAL DUNN VOTED NWSL PLAYER OF THE WEEK
CHICAGO (July 1, 2015) - Washington Spirit forward Crystal Dunn was voted the National Women's Soccer League (NWSL) Player of the Week by the media for Week 11 of the 2015 NWSL season. (Watch Highlights)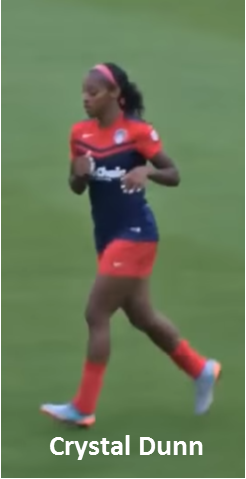 Dunn, 22, scored the only goal for the Spirit in the second half to earn a 1-0 win at home over the Houston Dash on Saturday night at Maureen Hendricks Field Maryland SoccerPlex in Boyds, Md.
The New York native's goal came at the 56th minute of the game, as Dunn headed into the second half determined to score and continuously putting pressure on the Dash backline. The Spirit forward saw the open opportunity when she stole the ball from the Dash defense and fired a shot in the top left corner of the goal, giving the Spirit a 1-0 lead. Dunn is currently leading with the most goals of any player this season with seven goals in ten games.
The former Tar Heel is the third Spirit player to be honored as the NWSL Player of the Week. She is the first NWSL player to receive the award three times this season, when she was honored with the award in Weeks 3 and 8.
The Washington Spirit will return to action on Friday, July 3 at 8:00 p.m. ET against FC Kansas City at Swope Soccer Village in Kansas City, Mo.
The NWSL Player of the Week is selected each week of the regular season by a selection of journalists that cover the league on a consistent basis.
--- www.NWSLsoccer.com ---