By
Kevin McCrudden
, January 15, 2015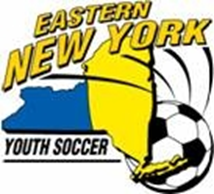 Philidelphia, PA – NSCAA Convention – Each year the soccer community of America treks to Philadelphia for the largest soccer convention in North America.  Almost every level of soccer is represented from youth soccer leagues to Major League Soccer and US Soccer.
The Eastern New York Youth Soccer Association (ENYYSA) is one of the largest youth soccer organizations in America, which is made up 11 leagues that include one of the largest youth soccer leagues in America, the Long Island Junior Soccer League (LIJSL) and one of the oldest, the Cosmopolitan Youth Soccer League (CYSL).
ENYYSA has announced unprecedented partnerships that will help prevent player injuries up to 50% through an educational app that will be provided to over 100,000 players, as well as their parents and coaches.
"I am very proud of the actions we have taken to enhance the playing experience for all of our member organizations and the youth soccer players of eastern New York," says ENYYSA President Rich Christiano  "In recent years we face new challenges of our children playing too many games and the increased injuries associated with over playing.  This is why our actions of educating parents, coaches and players and providing them the AT PEAK app will help them learn the exercises that can help prevent injuries." concluded Christiano.
U.S. Soccer and Major League Soccer have partnered together to conduct a trailblazing Medical Symposium during the NSCAA Conference, which will be  Jan. 15-16 in Philadelphia, PA.  Medical professionals from U.S. Soccer and MLS will conduct the two-day symposium that will focus on player health and safety issues related to youth, amateur and professional soccer. The event will provide an opportunity for the soccer community to review the latest research, identify best practices, develop additional strategies for enhancing safety and reducing injuries, and chart a course to further understand soccer-related medical issues.
ENYYSA anticipates that it will be the first soccer organization in America to take action on the recommendations of US Soccer and Major League Soccer.  Jim Eleftherion is the Treasurer and Director of Risk Management for ENYYSA and he says, "we are constantly looking to take care of the children that play in ENYYSA and provide our member leagues, coaches and parents with tools that protect our kids.  Working with companies like SportsSignup, which have enabled us to implement other programs in the past and now AT PEAK, we are being aggressive in addressing the epidemic of sports injuries and want our kids playing in ENYYSA to spend more time playing and less time injured."
The NSCAA Medical Symposium will include presentations by leading experts on the current state of research and areas for future research, education sessions on best practices for the management of soccer-related medical issues, and roundtable discussions with medical experts.
In May of 2014, MLS Commissioner Don Garber and U.S. Soccer CEO and Secretary General Dan Flynn joined President Barack Obama and 200 sports officials, medical experts, parent activists and young athletes at the White House to participate in the Healthy Kids & Safe Sports Concussion Summit. The meeting was targeted at finding new ways to identify, treat and prevent serious head injuries, particularly in youth sports, and was vital in the creation of the soccer-specific Medical Symposium.
One of the ways that ENYYSA has been able to be a leader in services provided to its member organizations, players, parents and coaches is through its technology partner, SportsSignup.  "Several years ago, ENYYSA was the driving force behind SportsSignup's development of  KidSafePlus®, the first fully-integrated coach background check management system on the market," said Anthony Bruno, CEO of SportsSignup.  "Today, ENYYSA has set the bar once again, requiring concussion awareness testing during the online registration process, which has already educated thousands of soccer coaches about traumatic head injuries. The SportsSignup team is proud to be part of ENYYSA's effort and will continue its innovation in the area of player safety," continued Bruno.
As the growth and visibility of soccer has exploded in recent years, organizations like ENYYSA have been in place for over 50 years meeting the needs of one of the oldest soccer communities in America. And while the New York metro area may now be home to three professional soccer organizations, the Red Bulls, Cosmos and newly formed NYC FC, ENYYSA provides the backbone of education, training, referees, fields and organization that enable thousands of children to play "the world's game."
"One of our ENYYSA Hall of Fame members, Rocco Amaroso, coined the phrase, "Building Character though Soccer," many years ago, says ENYYSA President Rich Christiano, "and we take that seriously, but we also embrace the responsibility of educating our parents, coaches and players so that they can enjoy the game we love to its fullest." concluded Christiano.
One of the participants of this unprecedented Medical Symposium at the NSCAA Convention is the President of JAG Physical Therapy and Medical Coordinator for Major League Soccer.  John Gallucci Jr., MS, ATC, PT, DPT, is also the author of a new book, Soccer Injury Prevention and Treatment. Gallucci states, "In my practice as a Physical Therapist and President of a company with 10 physical therapy centers, I see a lot of youth sports injuries and I know that many of these injuries can be avoided. In fact, medical studies show that with proper pre- and in-season exercise, and education, up to 50% of these injuries can be avoided according to the CDC. I applaud ENYYSA for taking a leadership position in taking these preventative measures to help keep "the beautiful game" of soccer safe for our kids."
Information from the US CDC site states that more than 7,100 children ages 0-19 were treated in hospital emergency departments for sports and recreation-related injuries each day in 2009. That works out to 2.6 million children a year. And many more injuries are treated in doctor's offices and primary, acute care, and sports medicine clinics.  In 2003, sports and recreation-related injuries treated in emergency departments resulted in more than $11 billion in direct medical costs for children less than 18 years of age. Many of these sports and recreation-related injuries are predictable and preventable and, in fact, overuse injuries are responsible for nearly half of all sports injuries to middle and high school students.. ENYYSA's Director of Risk Management, Jim Eleftherion says, "Our mission is to promote the health, safety and protection of the players as they learn this great game. We put safety first and supplying our membership with the AT PEAK APP helps us accomplish that."
AT PEAK is a mobile app dedicated to powering player performance by reducing injuries, and is available at www.AT PEAKsports.com.   Through AT PEAK, players will experience video-guided strength and conditioning workouts that can help cut the incidence of injuries up to 50% and prevent ACL injuries in female players by up to 70%. 
Will Metzger, CEO and Founder of AT PEAK and former collegiate athlete says, "All of us involved in youth sports know how great sports are for kids. They are more likely to be physically fit and healthier adults. And the valuable lessons they learn from sports, like teamwork, discipline and resilience, benefit them for a lifetime.  When my son was injured playing sports and I became aware of the youth sports injury epidemic, I discussed solutions with sports medicine professionals and we developed age, gender and sport specific athletic training exercises that have proven to be very beneficial in preventing injuries."  Metzger continued, "We knew that we had to make the program fun and engaging for the kids, because kids are so involved in social media, we include social features and virtual rewards as a great way for them to connect with each other and get rewards, while doing the exercises that will help keep them healthy and playing."
ENYYSA will provide the AT PEAK app to all of their players, coaches and parents starting with registration for 2015.
# # # #
________________________________________________________________________________________________
ABOUT:
ENYYSA ~ Eastern New York Youth Soccer Association
With over 100,000 youth soccer players––both boys and girls––and more than 25,000 volunteers, the non-profit Eastern New York Youth Soccer Association (ENYYSA) stretches from Montauk Point, Long Island to the Canadian border. Members are affiliated with 11 leagues throughout the association, which covers the entire state of New York east of Route 81. ENYYSA exists to promote and enhance the game of soccer for children and teenagers between the ages of 5 and 19 years old, and to encourage the healthy development of youth players, coaches, referees and administrators. All levels of soccer are offered––from intramural, travel team and premier players as well as Special Children. No child who wants to play soccer is turned away. ENYYSA is a proud member of the United States Soccer Federation and United States Youth Soccer Association. For more information, please log on to http://www.enysoccer.com/, which receives nearly 300,000 hits annually from the growing soccer community. 
AT PEAK is a mobile sports and fitness e-Commerce platform whose mission is to bring the best of sports medicine and athletic training to every field and every home.   AT PEAK's first product is a mobile app for injury prevention in youth sports which cause 10+ million injuries/year and $30B+ in healthcare costs.   AT PEAK works with the premiere sports medicine doctors in the country to deliver age, gender and sport specific athletic training through our app. A CDC report says that sports injuries can be reduced by 50% using the type of workouts, information and tools that AT PEAK will provide to kids, coaches and parents. Our platform tracks athlete engagement and results over time. It reports that information, as appropriate and with permission, to coaches and parents: 360o encouragement to learn, improve and perform at your best.  AT PEAK was founded in 2012 by Will Metzger, who brings a background of running digital programs for healthcare and technology companies. The founding team also includes Dr. Jordan Metzl, the head of the Youth Sports Institute at the Hospital for Special Surgery; Pete Banks, a technologist with a background in online gaming & fitness; and Jennifer Haggerty, a capital markets and online technology operations executive. AT PEAK's Board of Advisors includes sports medicine doctors, pro athletes and other prominent members of the youth and pro sports industries. www.AtPeakSports.com
SportsSignup, owned and operated by League Sports Services LLC, provides sports organizations and event organizers with easy-to-learn and easy-to-use integrated Software-as-a-Service (SaaS) solutions to facilitate online sports registration, web content management (CMS), coach/volunteer background checks and eCommerce. Since 2003, the company has been dedicated to operating a secure, affordable, and hassle-free online service suite that enables administrators from thousands of soccer, football, baseball, lacrosse, basketball, track and field, and many other sports organizations to easily automate many aspects of their duties. For more information about SportsSignup, please visit http://www.sportssignup.com. Follow SportsSignup on Twitter; like SportsSignup on Facebook; or watch the SportsSignup video to learn how to simplify sports management tasks.