By
Sean McCaffery
, October 4, 2018
A member of staff of the Atlanta United was in Press Row for a good 75% of the game this Sunday at Red Bull Arena. He was on the field amongst the players during warm ups, then seated in a chair with all the photographers but sans camera. He held a small pad with a pre printed diagram of a soccer field upon which he was making notes. The fellow was yelling in the direction of the field, I was unable to make out what he was saying or even discern what language it may have been. At times he was jesticulating in response to calls not going the way of the away team. He had on their attire, yet no credential, he was left there by Red Bull staff to see how long he would remain etc. Press are not to wear items of clothing from either team. A quick check of the United website showed no image of him and that is being researched more deeply and not just by myself.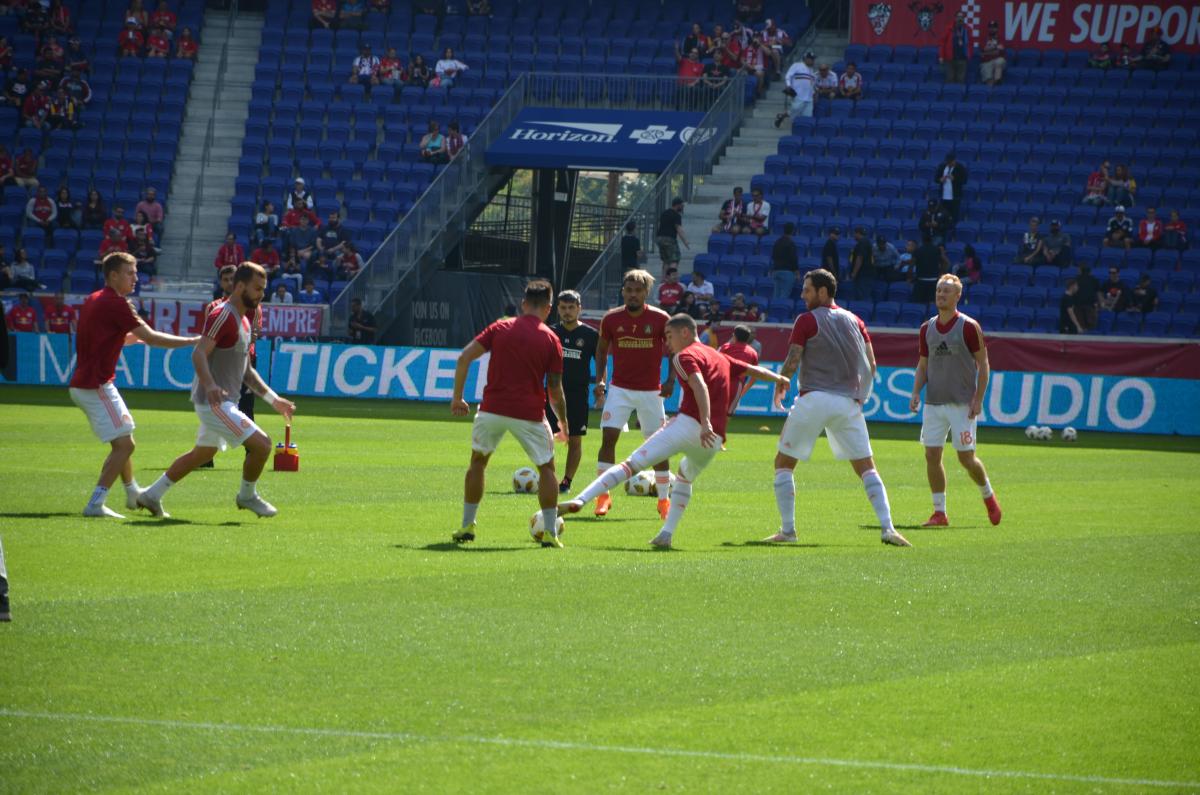 The staff member in the center of the image in the black top.
I must admit I am a bit of a newcomer to all this so I will hold out a sliver of hope for ATL. After all I have been certified on and off though not is over 20 years as an USSF ref, having done games with many former domestic and foreign pro players in them, from Boca Juniors, Santos, various national teams and most teams from the first incarnation of the NASL. I arranged for possibly as many as 30 people to be certified as coaches by the USSF, worked for 3 pro teams, done camps in no less than 4 states, etc. I am rather certain I am right.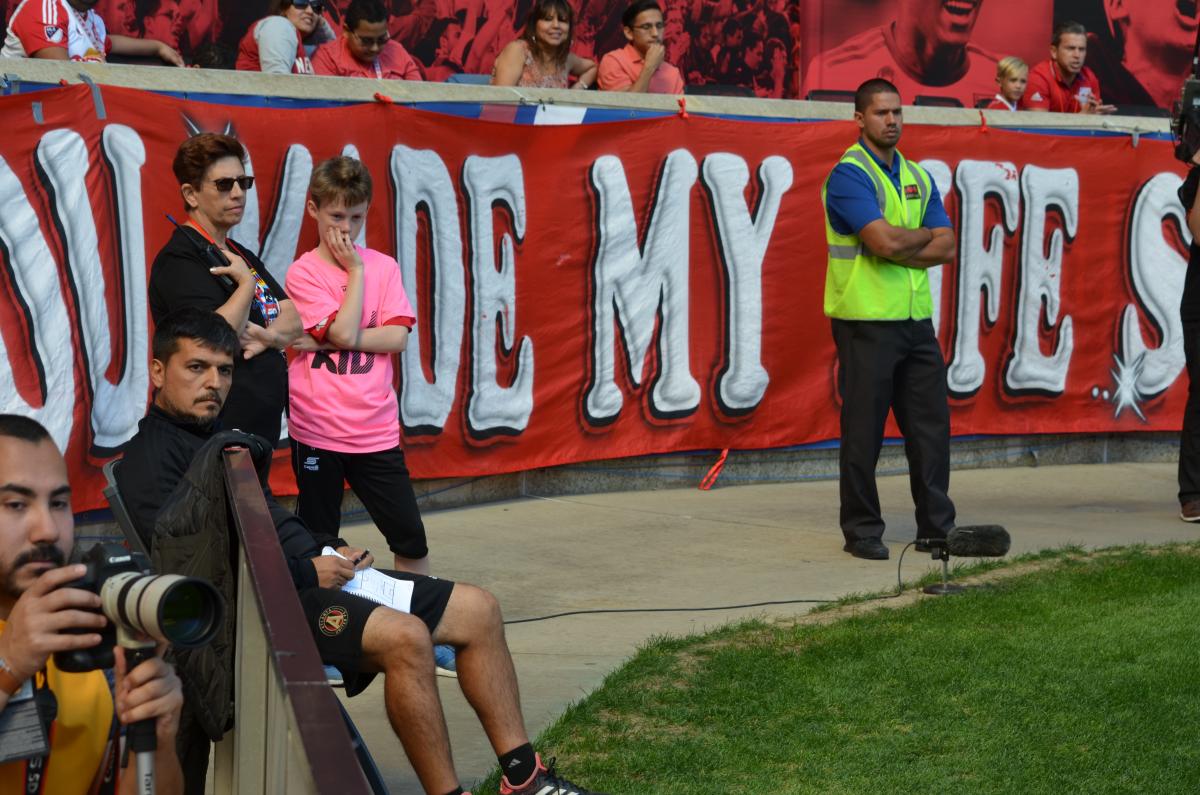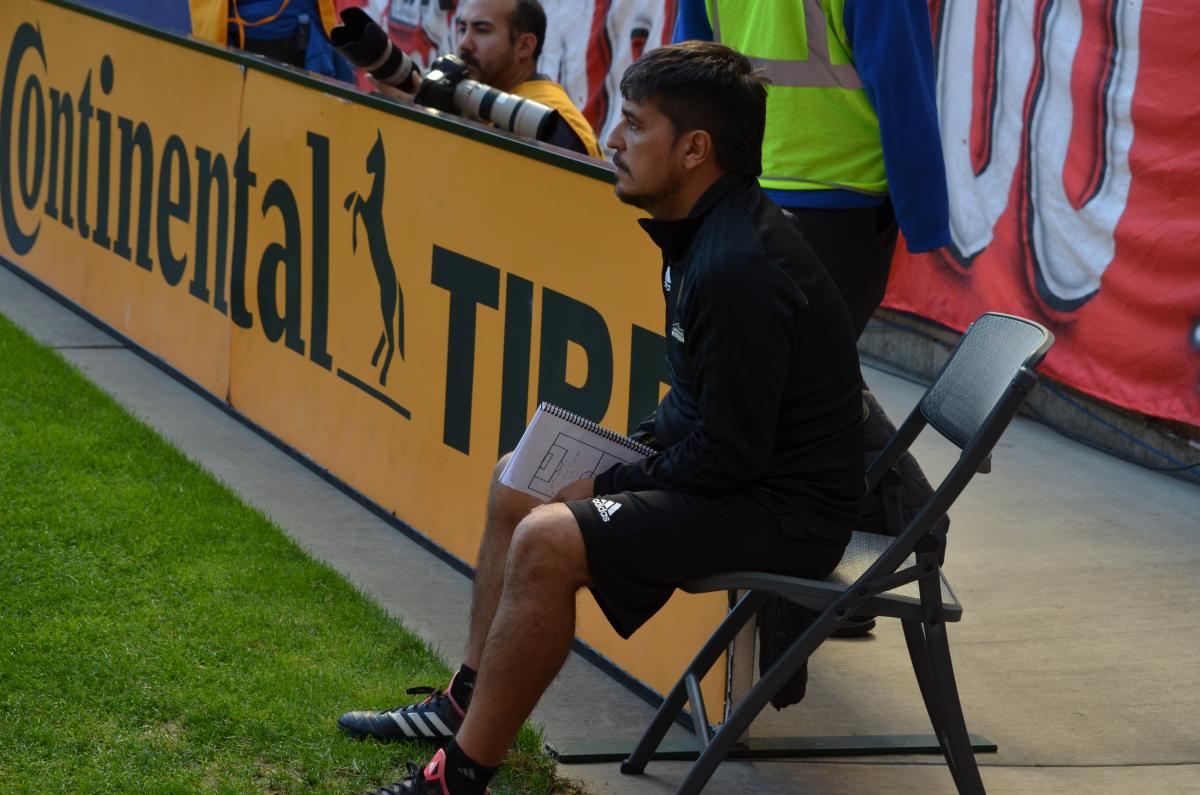 The Atlanta staff member on the touchline. See the notes inside of the diagram of the field.
Red Bull is well aware of the situation and shortly after the culmination of the game, reached out to MLS on this issue. The team has no comment beyond it is passed onto and now in the hands of the league, as they should. I contacted a higher up in the league Monday, just past 5, yes the phone was answered, assured if not later that evening but certain that I would be contacted again Tues. Wed at noon I left the same person, unable to reach them by cell or work numbers, a message that I was now moving on the story. Yes, I may have compromised my journalistic integrity, but to me the greater good would be properly looking into it rather than have me muck up the works by running with it. I am now writing this and it is minutes past noon Thurs., still no contact. The one I did contact is not the proper person, but it should have been passed along and a contact made to me. My thinking is that either Competition or Rules people will handle this. I expressed to my contact that I had no issue waiting as no other press had caught on to this, however I want to be able to put it out there before the league does anything as I had at that point sat on it for just over 24 hours. Further, it was requested that I be the first one told once they determined the results of their investigation, allowing me to break that would be great, however, even telling me as an example that they would put it out at 5:30 I would be able to write my story on that and put it out a short time later.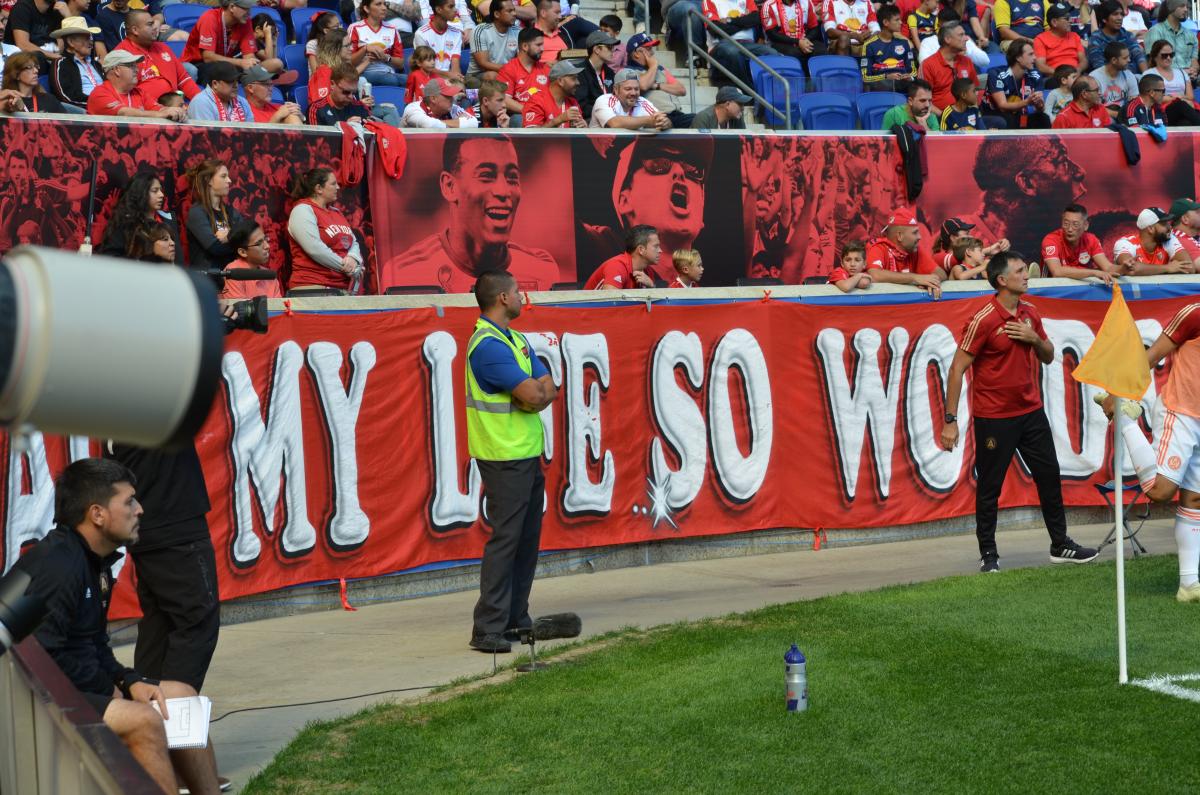 As one coach warms up the players, he is not participating at all.
What might the investigation be? First, ID the person, see his attached photos here and many more that will be posted to the Facebook Page of Soccer Long Island Magazine. Next review images of past games involving Atlanta to see if this is an ongoing practice of theirs, beginning with photos of the area he was seated in as one may look at a full game of photos in a fraction of a 90 minute review of the game film. Gone are the days of NOT being able to coach from the touchlines, now only 1 person may do so at any time per team, but from within the technical area in front of the benches, maybe a yard or so deep onto the playing surface, not at the coner flag some 50+ yards away. A parabolic mic near him would be able to pick up what he was saying as it was a nationally televised game, there would be many more of those than at a regular game. Although he was yelling, it was not able to be determined by the ref that it was from the touchline rather than the stands as I was half a penalty area away from him at most. The players with another coach who was interacting with them did warm up on the endine near him, I saw no interaction as they passed by and photos show he did not get involved with their activities but remained seated.
Possible penalties?, verbal/written warning, fine, numerous possible sanctions from loss of draft picks, home playoff games etc., the latter ones are far more severe of course. I would expect it to be determined before the end of the season, justice delayed is justice denied.
These images have not been altered in any way, shape or from.