By
Sean McCaffery
, May 7, 2018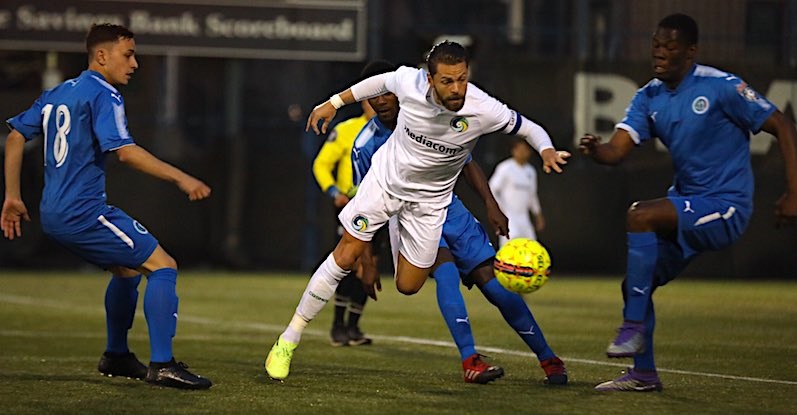 Photo source, NYCOSMOS.COM
Contributed by Steven Torres
Brooklyn Italians SC defeated visiting New York Cosmos B, 3:2, during the play-in round of the 2018 Lamar Hunt U.S. Open Cup, at LIU-Brooklyn Athletic Facility on Sunday evening.
The former Open Cup winners (1979, 1991), Brooklyn Italians earned its first win in history against Cosmos B during the oldest cup competition in the U.S.
The match-up between the two NPSL (National Premier Soccer League) sides saw the host get on the board first with midfielder Giuseppe Barone scoring in the 31st minute-mark.  However, Montenegro forward Bljedi Bardic leveled the match for the Cosmos B in six minutes later.
In the second half, Danish forward and LIU-Brooklyn star, Rasmus Hansen gave Brooklyn a 2:1 edge with a tally in the 58th minute, but 60 seconds later, Cosmos B answered back with a goal from Polish forward Wojciech Wojcik.
Hansen got his second goal of the match with five minutes remaining as Brooklyn Italians advanced to the opening round of single-elimination tournament and will greet the National Amateur Cup holders Lansdowne Bhoys of Yonkers, N.Y. on Wednesday, May 9.
In other Open Cup Play-In encounters on Sunday: NPSL's Jacksonville Armada FC topped host The Villages SC of Premier Development League, 2:1 at Southern Oak Stadium.  Meanwhile, other NPSL club eliminated a PDL side as Miami FC 2 posted a 3:1 road victory over FC Miami City.
2018 Lamar Hunt U.S. Open Cup – Play-In
06.05.2018: Brooklyn, N.Y.; LIU-Brooklyn Athletic Facility (A: 100)
BROOKLYN ITALIANS SC – NEW YORK COSMOS B 3:2 (1:1)
Giuseppe BARONE 31'; Rasmus HANSEN 58', 85' – Bljedi BARDIC 37'; Wojciech WOJCK 59'
Brooklyn Italians SC: Michael Bernardi - Oliver Bennett, Anthony Herbert (71: Benny Lafortune), Collyns Laokandi, Dominick Falanga, Ahu Obhakhan (46: Christoffer Solbakken), Simen Olafsen, Faouzi Taieb, James Thirstino, Giuseppe Barone (69: Jerel Blades), Rasmus Hansen.
Coach: Lucio RUSSO
New York Cosmos B: Macklin Robinson – Chris Wingert, Jonathan Borrajo, Joseph Sanchez (70: Zaire Bartley), Garrett Halfhill, John Neeskens, Rafael Garcia (88: Ivan Berterame), Daniel Szetela, Darwin Espinal, Bljedi Bardic, Wojciech Wojcik.
Coach: Carlos MENDES
Written by Steven Torres