By
Kevin McCrudden
, July 7, 2015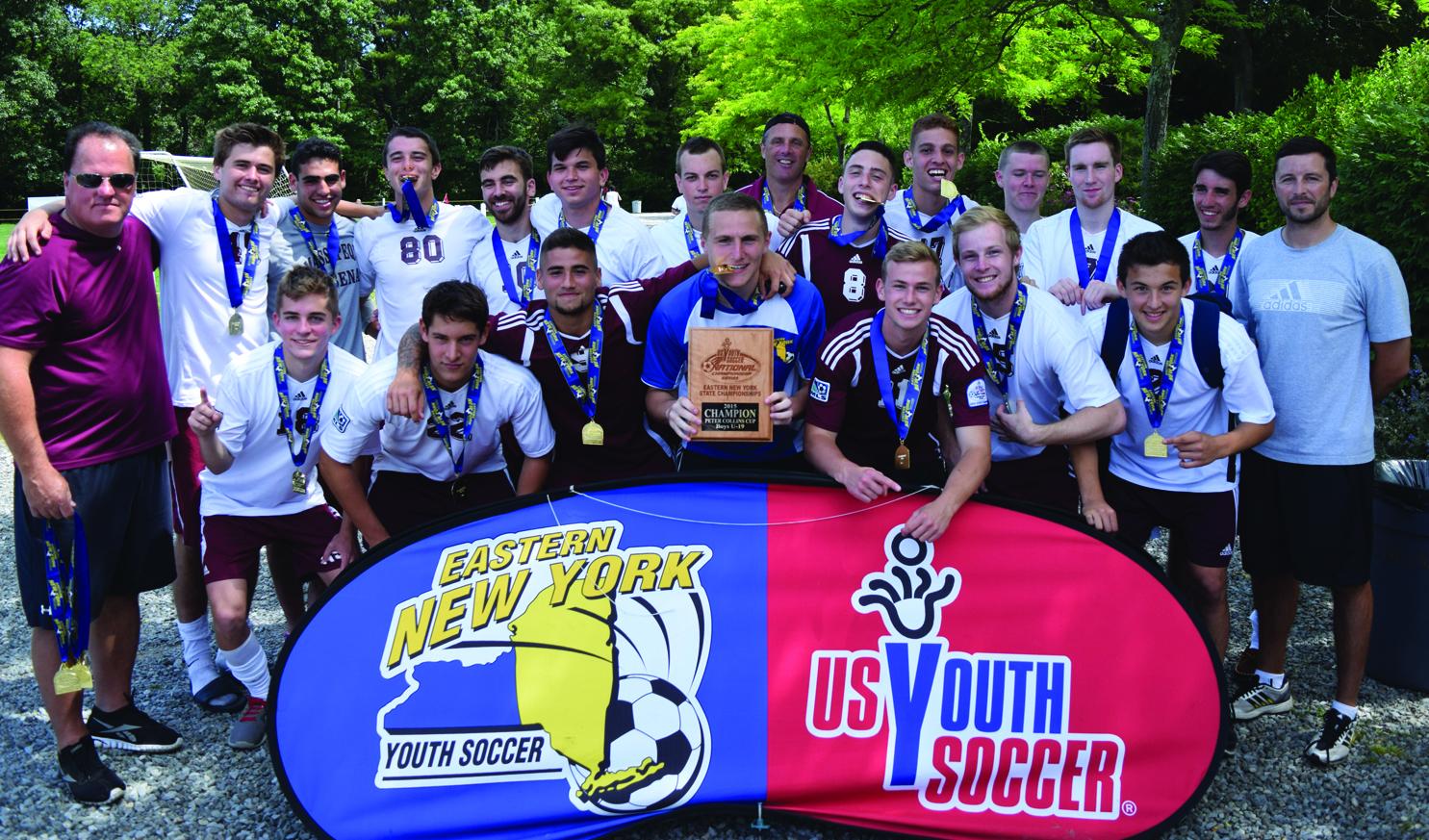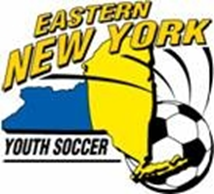 By Randy Vogt, Director of Public Relations, Eastern New York Youth Soccer Association
July 7, 2015-The saying that "Defense wins championships" is especially true for Massapequa Arsenal as they did not give up a goal during their five games at Regionals from June 26 to 30 in West Virginia to win the Region 1 championship. The Long Island Junior Soccer League (LIJSL) team will be playing for the historic McGuire Cup from July 21 to 26 in Tulsa, Oklahoma. The first youth soccer national championship was founded in 1935 and contested by the Boys-Under-19 age group. 40 years later, it was named the McGuire Cup, in honor of James McGuire, who served as U.S. Soccer Federation President from 1952 to '54 and again in 1971 until his passing in '74.
"We are proud to represent the Eastern New York Youth Soccer Association, Region 1 and the Massapequa Soccer Club, one of the best youth soccer clubs in the nation!" commented Massapequa Arsenal coach Tobias Bischof.
None of their Regional opponents could solve the defense of fullbacks Joseph Escamilla, Gerard Farrell, James Harris, Kevin Mazol, Chris McGrath and Kevin McGrath and plus goalkeeper Dan Vitiello. Massapequa has gone 520 minutes without surrendering a goal as the last one they gave up was midway through the first half of their State Open Cup final win against Kosmos Greek-Americans.
"Massapequa Arsenal was the most organized team at the Regionals," explained Coach Bischof. "The players' willingness to work together and for each other has made us so strong over the years. Every single player on Massapequa Arsenal puts the team above himself."
Massapequa outscored their five opponents 18-0 during Regionals. In the 2-0 championship game win over Virginia's Annandale United FC Hawks, Cory Santangelo scored in the 13th minute and an Annandale own goal in the 52nd minute helped seal the Regional title for Massapequa.
The three-time State Open Cup champions have a long history, winning multiple tournaments across the United States as well as the Northeast Regional Premier League (NERP) and they were also Region 1 Premier League finalists. Massapequa received another $2,000 donation from Eastern New York for Nationals, in addition to their $2,000 Eastern New York check for Regionals, to defray their costs during the National Championship Series.
"The Regionals is a very long and demanding event so we gave our players off until after the Fourth of July weekend to rest and get healthy," Coach Bischof stated. "This week, we will get together and start preparing for the McGuire Cup national championship."
With over 100,000 youth soccer players––both boys and girls––and more than 25,000 volunteers, the non-profit Eastern New York Youth Soccer Association (ENYYSA) stretches from Montauk Point, Long Island to the Canadian border. Members are affiliated with 11 leagues throughout the association, which covers the entire state of New York east of Route 81. ENYYSA exists to promote and enhance the game of soccer for children and teenagers between the ages of 5 and 19 years old, and to encourage the healthy development of youth players, coaches, referees and administrators. All levels of soccer are offered––from intramural, travel team and premier players as well as Special Children. No child who wants to play soccer is turned away. ENYYSA is a proud member of the United States Soccer Federation and United States Youth Soccer Association. For more information, please log on to http://www.enysoccer.com/, which receives nearly 300,000 hits annually from the growing soccer community.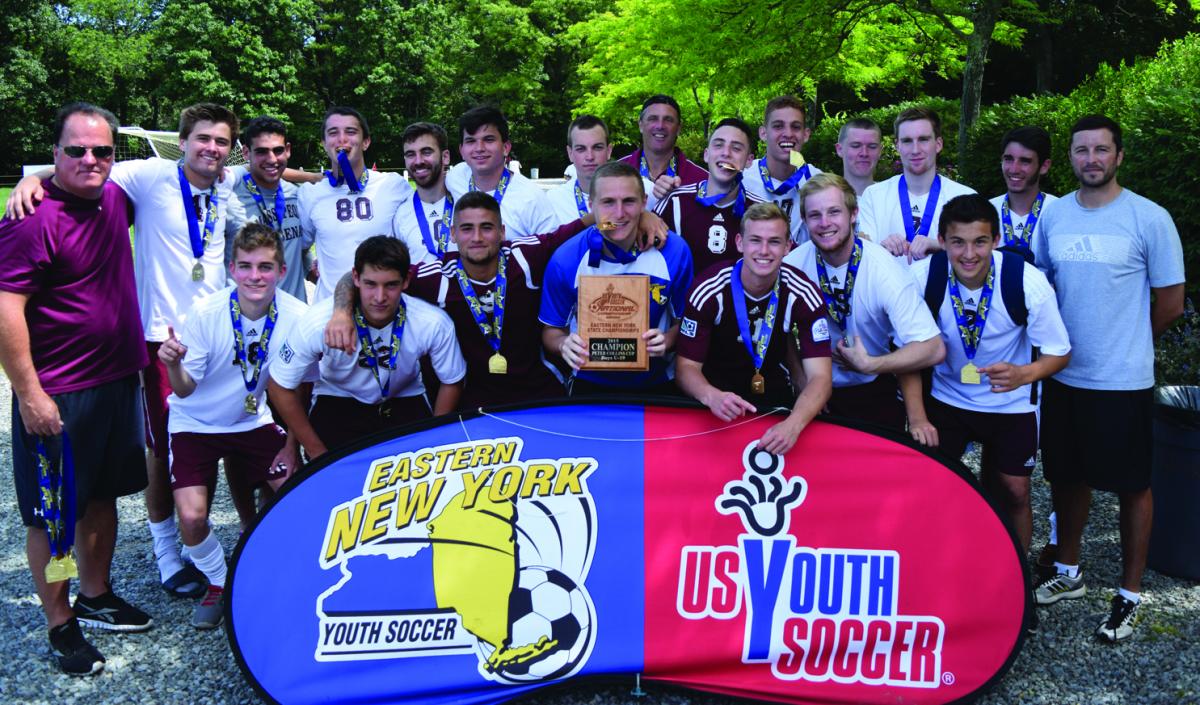 (Eastern New York Youth Soccer Association photo attached of Masapequa Arsenal. 
Back row, left to right: Coach/administrator Joe Votinelli, Brian Nichtern, Jonny Nierenberg, Nicholas Cestaro, James Macchia, Brendan Gallivan, Cory Santangelo, Coach Robert Christensen, Frank Micieli, Joseph Escamilla, James Harris, Gerard Farrell, Matthew Scorce, Coach Tobias Bischof
Front row, left to right: Kieran Hall, Nicholas Christensen, John Romano, Dan Vitiello, Justin Carfora, Chris McGrath, Michael Farese.
Camera shy: Kevin Mazol, Kevin McGrath.)