By
Sean McCaffery
, August 23, 2019
Back to back national championships, numerous first round draft picks, national team players, later winners of the Player of the Year in the NCAA, Ulster has a huge weekend of events scheduled for Sept. 6 & 7. The UCC Soccer Alumni with the school has a number of local socccer events to pay homage to the long history of success on and off the pitch. The goal of this weekend is to honor George Vizvary, the Hall of Fame coach and his 2 national champions of 1977 & '78. Coach Viz is truly a legend  of the game. Our friend Joe Ulrich a former NY Arrow, UCC All -American, Duke soccer alum and Hermann Trophy winner, is still upstate in Saugerties had this to say, " What better way to celebrate the legacy of coach Vizvary and Ulster Soccer by doing what we do best, sharing our love and passion for this wonderful game with the local socccer community." 
It all kicks off the evening of the 6th at 6p.m with their Soccer Coaches Symposium, headed by another alum, Tom Byer of Soccer Starts at Home fame. He is already in the states from his home in Japan as he is with the Houston Dynamo at this time then back to NY for the weekend. Saturday it is in full swing at 9:30, a Soccer Skills Clinic for those 5-13, who need to bring a ball and dress to play. Soccer Tom Mulroy, another alum an All-American at UCC, 13 year pro , 1994 World Cup spokesman, ex Guinesses Book of World Record Holder for juggling a soccer ball and with Shep Messing gave me my first job in the game  will run the clinic. Joining Tom will be ex pro GK Kevin Clinton and UCC National Champ, they will be joined by other alums, soccer greats and former pros. 
All of the above are at  no cost to all, if you have an interest in attending, feel free to reach out to TJ Derella tderella@gmail.com, one of numerous brothers to play at UCC and for Coach Viz. An alumni game starts at 11:20 am as players from all over the globe return for such a grand event. Next up is the game pitting the current team v SUNY Dutchess at 2 p.m. All soccer events are to be conducted at the UCC campus in Stone Ridge NY. The main event, a banquet at Novellas a fine dining establishment in New Paltz, seats are $75 pp. Please drop Joe Ulrich a line, jfacjn01@hotmail.com.
These events are brought to all by the executive committee of SUNY Ulster Alumni, TJ Derella, Tom Byer, Joe Ulrich & Tom Mulroy, their goals are are to promote and continue the Ulster Soccer legacy.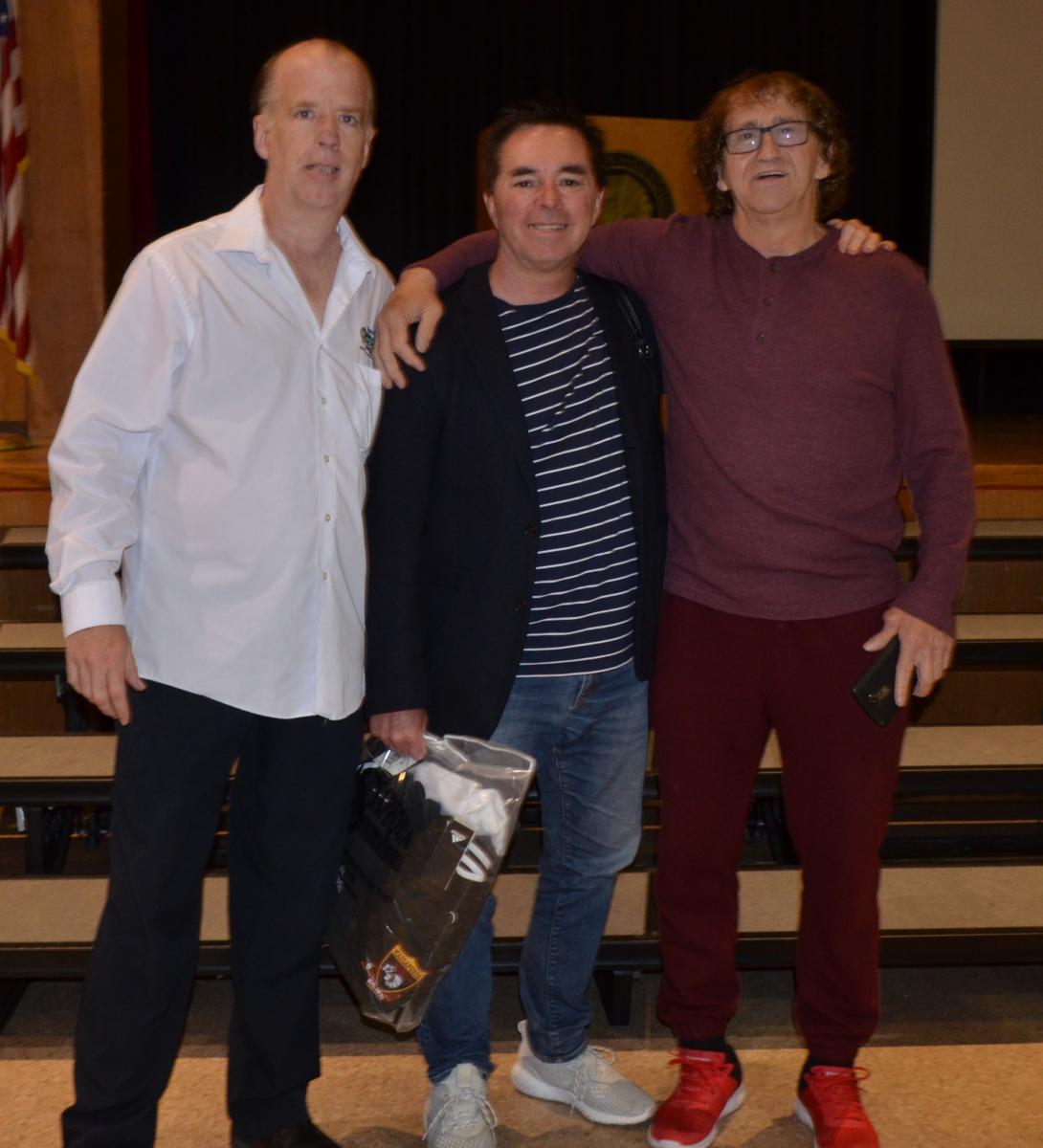 Sean McCaffery, Tom Byer & John Lignos of Freeport, USMNT, UCC, AISA, NASL etc.  In Massapequa for a presentation by Tom Byer to their club.